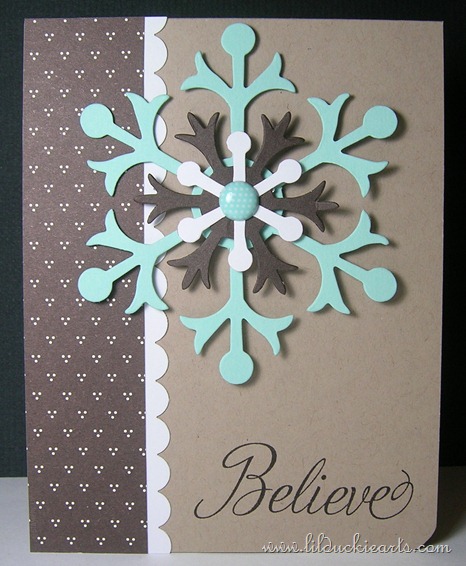 Well, the blissful childcare situation has definitely been an adjustment for all of us. It turns out that L is NOT ok with being with anyone else if mom's around too. We're talking an epic 10/10 on the tantrum scale.. all. day. long. So no, I didn't get anything done last week.
We've discovered that things go much better if they leave the house. Then there's a happy baby. Who knew a change of scenery could cheer a person up? (ok, someone's been saying that for years). So hopefully I can get a start on my Christmas shopping and baking! I'll ignore the house organizing for a while longer yet.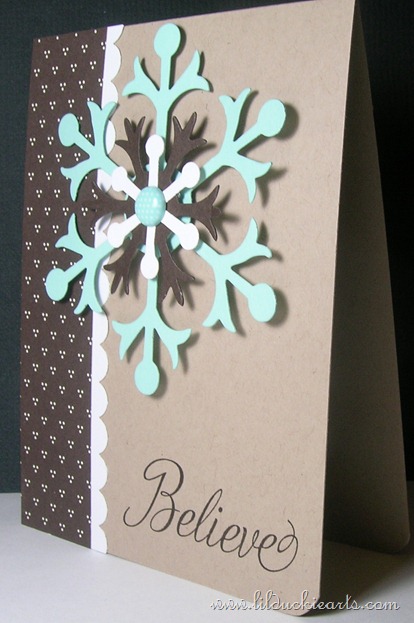 Here's another Christmas card to inspire you. I love these colours. I think it makes it nice and elegant!
Materials:
Whisper White, Pool Party, Early Espresso, and Crumb Cake Cardstock. Candlelight Christmas Specialty DSP.
Early Espresso Ink.
Snowflake Soiree Stamp Set.
Big Shot and Snow Flurry Bigz Die.
Scallop Border Punch and corner rounder punch.
Designer Printed Brads.