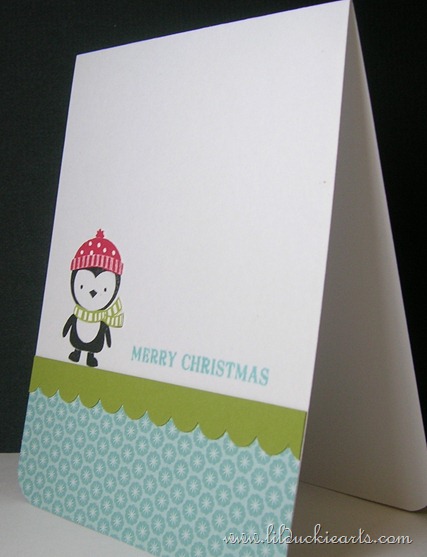 Freeeeeeedom!
I feel like a kid who just got off for Christmas holidays, or someone who won the lottery and now has to figure out how to spend all that cash (and not too foolishly). My cash is free time. We got ourselves a nanny for when I go back to work, and are transitioning into it a bit early, which means that I have non-work time without the baby!
What should I do with my days? I had big plans, where did they go? I'm pretty sure some of that cleaning can wait until later, as I've got lots of sleeping to do!
On the agenda for today: Make beans, pizza, and raspberry jam. Put up the Christmas tree. Get groceries. Make cards. Sleep. Oh yes, sleep. I will cherish every extra moment of time that I get, which I'm sure will help me to cherish my time with L even more.
This little penguin card reminds me a bit of L, all bundled up for a snow day.
Materials:
Whisper White and Lucky Limeade Cardstock. Floral District DSP.
Basic Black, Lucky Limeade, Real Red, and Baja Breeze Inks.
No Peaking and Owl Occasions Stamp Sets.
Corner rounder and scallop border punches.