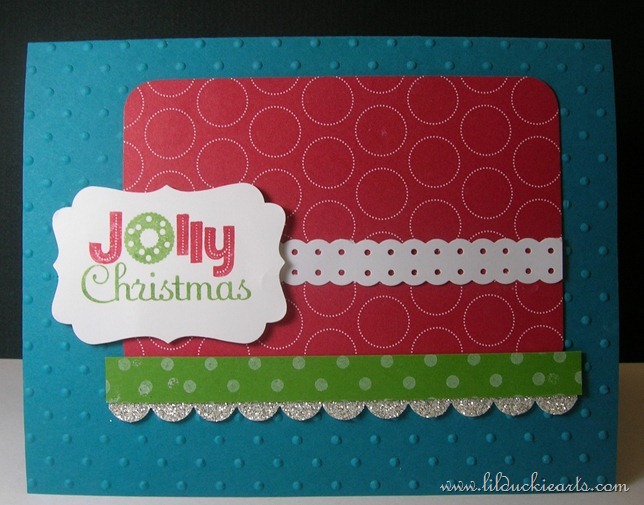 Rain, wind, chilly nights. Coats, umbrellas, rubber boots. Sweaters, tuques, and mittens. Yup, the wintery weather has arrived, and I now have to bundle up the little one whenever we leave the house. The really tricky part is having to put her warm clothes on her after we've arrived at our destination, with the rain pouring down, as kidlets can't wear bulky clothing in a carseat. The result is generally a very wet mom and a mostly dry L.
How do other moms do it? Is there a way to somehow carry an umbrella as well as all the baby paraphernalia? Should I suck it up and get some good quality rain gear? What to do? Make cards. That solves everything.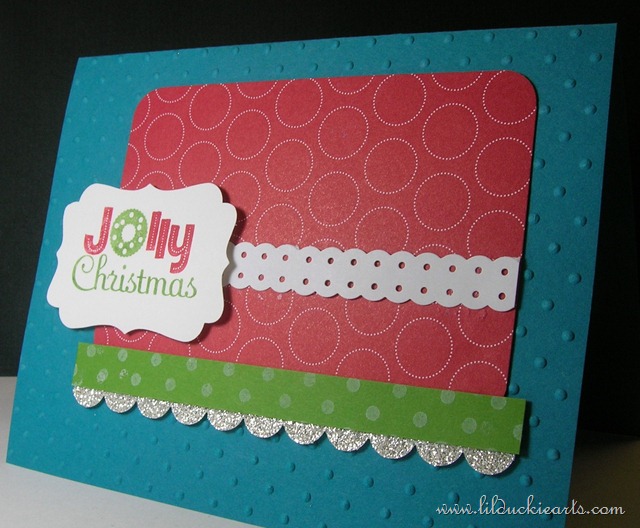 I'm liking these colours right now. Crisp, clean, modern.
Materials:
Whisper White, Gumball Green, and Tempting Turquoise cardstock. Real Red DSP, and Silver Glimmer Paper.
Whisper White Ink. Real Red, and Gumball Green Stampin' Write Markers.
Distressed Dots stamp, and No Peeking Stamp set.
Scallop Border Punch, Ribbon Border Punch, Decorative Label Punch, Perfect Polka Dots Folder, and Big Shot.