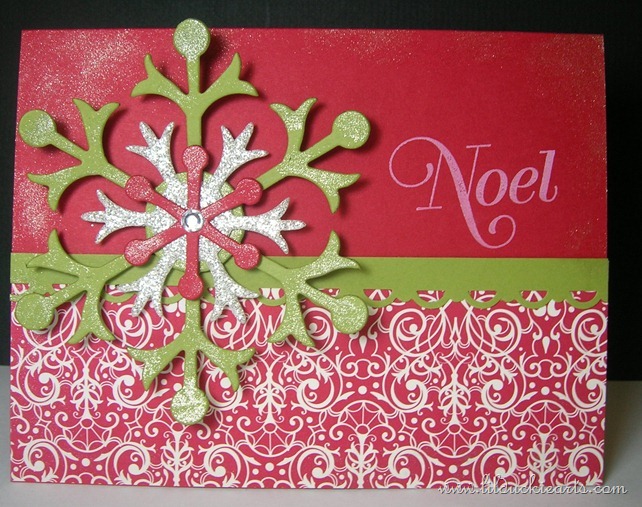 The munchkin can move! (Very slowly). No panicking yet. I can leave her for a few minutes and she's only gotten into half the bad things, not all the bad things. She does this totally hilarious suction-cup-hands crawl, flat on her belly. It's not fast, but it does the trick.
Due to the moving baby, Nathan has made a small (ok, VERY small) attempt at babyproofing things. He's made a little cardboard blockade around all of our TV goodies. That's right, no more Wii controls for the bean! This leaves me with a few more seconds to do things like make cards! And play with shimmer.. who doesn't love shimmer?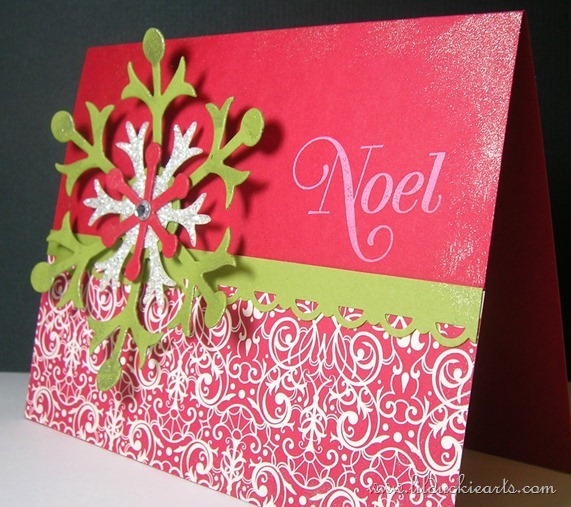 Materials:
Real Red, Lucky Limeade, and silver glimmer paper; Candlelight Christmas DSP.
Whisper White ink
Greetings of the Season Stamp Set.
Big Shot and Snow Flurry Bigz Die, Scallop Trim Border Punch, Rhinestone Basic Jewels, and Champagne Mist Shimmer Paint.