Hey hey,
Happy Wednesday! The sun is out.. I always feel a need to tell you when it's a sunny day, yet I don't announce the rainy ones. Maybe I'm an optimist at heart? I'm pretty sure it's just that I love the sun. It makes me feel so cheerful. Cheerful like this card.. (see that segue? I'm awesome).
I was playing around with my new Floral District paper and made this guy. It's based on a card I saw in the deep recesses of a website that I can't even link to because you have to be a Stampin' Up! demonstrator to have access.. sorry. But you can look at my version instead :-)
This DSP is very tra-la-la summer-ish. All of it. Summer, I'm in love.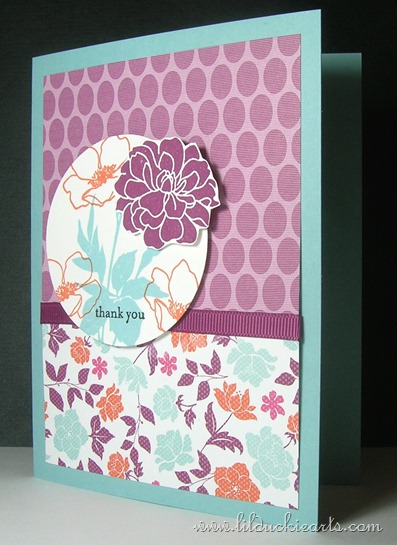 Gotta go play in the sun.. cheerio!
Materials:
Floral District DSP, Whisper White and Baja Breeze Cardstock.
Rich Razzleberry, Baja Breeze, Basic Black, and Pumpkin Pie Classic Stampin' Pads;
Rich Razzleberry grosgrain ribbon, Big Shot and Circles #2 Originals die, and Fabulous Florets Stamps.