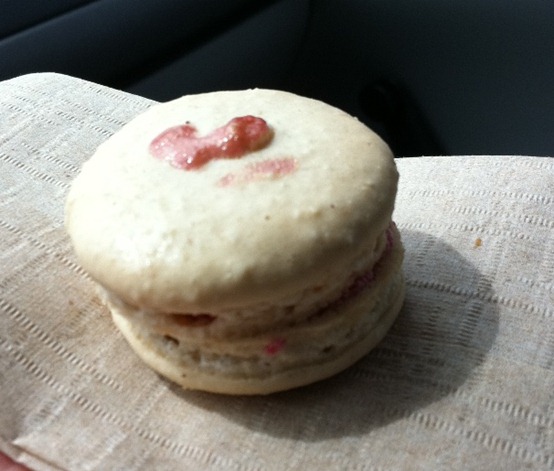 Parts of my birthday were pretty perfect. Like this raspberry macaron. Not the part where I should re-learn how to walk, since clearly I'm failing at that.
Not the part where I splatted onto the middle of the street with a car coming. Never mind that it was far away and going very slowly. I was a big splatted mess. Yep. Don't walk much.
You know those times when you have to take a deep breath and pretend that the sky's still as blue and nothing at all silly or stupid or embarrassing happened? I sort of failed at that, too.. but hey, maybe you'd have done better!
Like I said, there was a car coming. I misjudged it and thought I should pick up the pace.. so then I lost my shoe and went straight down, knees and hands to the pavement. It's ok though, my knees got lots of practice when I was learning to ride my bike. They know how to take a fall! A few bruises, a few cuts, no worries; where's the cake?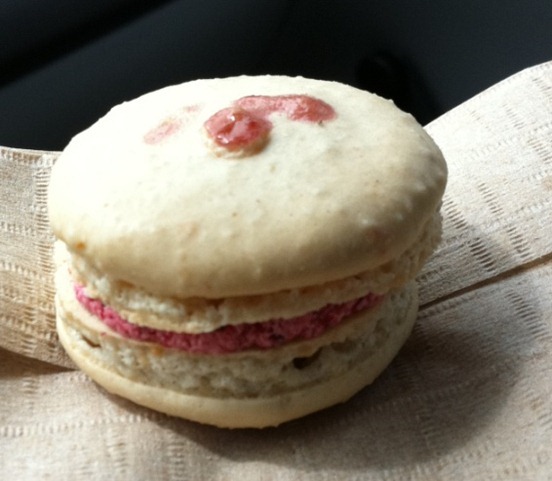 So let's get to the awesome parts of turning 28.
I bought myself this totally decedant and perfect little raspberry French macaron. It was amazing. You should try one. I also got me some awesome Red Fife whole wheat flour to make the most amazing everything with. Yep. Everything. Maybe I'll start with a soda bread.
Also pretty awesome? Dinner. We had a yummy-delicious dinner at Zambri's – totes recommend it. Nathan and our friend Laura had these deadly prosciutto-wrapped fried bread pieces, and I had a delicious seafood salad, followed by a fresh tasting arugula somethin'-somethin' pizza.
The third awesome of the day? Dessert! We had probably the best cake ever. Nathan had searched far and wide for this thing. I'd mentioned I liked German chocolate cake, which he took to heart. Apparently none of the bakeries here had any idea what the heck he was talking about. Seriously? They sell these things in grocery stores, yet the specialty bakeries are clueless? What's up with that?
No matter, I got something better. A chocolate cake with layers and layers of caramel buttercream, tiny bits of nuts, toffee, and coconut. It was the most amazing thing I've ever tasted.
Pretty great day!