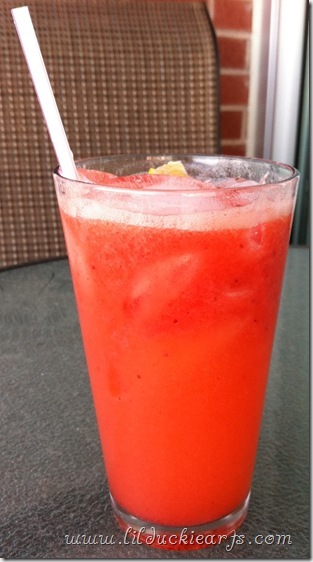 Today I was minding my own business, quickly using the restroom in the grocery store (sometimes we have those moments.. I'm sure you do too).  Now, the door automatically changes to "occupied" in nice red letters (as opposed to the green "vacant" sign) when you lock the door.  However, some people are RUDE. About 45 seconds after I made the little vacant/occupied switcheroo (locked the door), this person rattles on the handle.  Um yes, there's me here. Thanks.
Did she get the hint? Nope.  I'm now washing my hands, as any proper lady or gentleman does, and she rattles the door like the world's gonna end.  I mean, hello? It's locked. It says it's busy. Have some patience, woman! 
Let me tell you, I practiced my most irked stare-down when I walked by my cranky offender.  Yes, it made me feel better.
So this yummy strawberry limeade is not like people like her.  it's for calm, cool, and collected patient people like you.  Drink it when the sun's out. Or when you're pretending that it's summer but it's still all rainy and gross out, or in the middle of the night!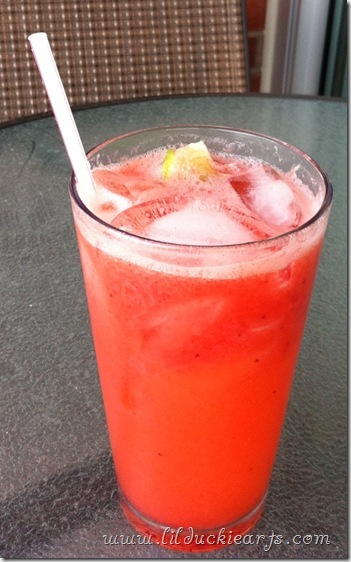 Fresh Strawberry Limeade
(from Our Best Bites)
Ingredients:
ice cubes
Sprite or Sprite Zero or other citrus soda
1 lime
3-4 tablespoons strawberry sauce (check out Our Best Bites recipe here)
Directions:
Fill a glass with ice.  Squeeze in the lime juice and fill the glass halfway with some Sprite.  Add the strawberry sauce and more sprite.  Stir it up if you want.  Now sip, sip away.