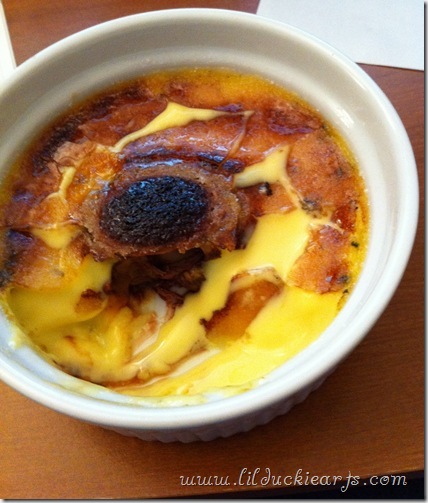 Well this looks like a horrible mess!  It really was delicious, and I would definitely make it again.  I've even saved a couple cream eggs just in case I get a craving.  I'm a bit late for Easter, but if you've squirreled away any cream eggs like me, you can make your own, too.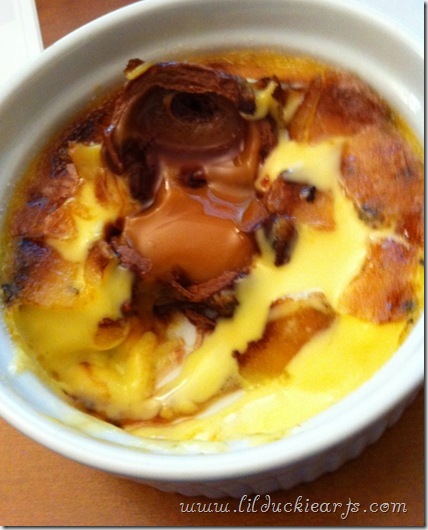 You can use your favourite crème brulée recipe, or follow the one below, by Alton Brown.  This was my first time making a crème brulée, and the recipe I used skipped a lot of steps, so it turned out pretty runny.  The one below should work out nicely for you!
Crème Brulégg
Ingredients
4 cups heavy cream
1 vanilla bean, split and scraped
1 cup vanilla sugar, divided
6 large egg yolks
8 cups hot water
6 Cadbury Cream Eggs
Directions
Preheat oven to 325F.
Place cream, the vanilla bean and what you've scraped out into a medium saucepan on medium-high heat and bring to a boil.  Remove from heat, cover, and allow to sit for 15 minutes.  Remove the vanilla bean.  You can use it for vanilla scented sugar once it's dry, or to strengthen your vanilla.
In a medium bowl, whisk together 1/2 cup sugar and the egg yolks until well blended and just starting to lighten in colour.  Add the cream a little at a time, stirring continually.  Pour the liquid into 6 (7-8 oz) ramekins.
Nestle a Cadbury Cream Egg or other similar chocolate into the centre of each ramekin.  I especially loved using the caramilk eggs.
Place the ramekins into a large cake pan or roasting pan.  Pour enough hot water into the pan to come halfway up the sides of the ramekins.  Bake just until the crème brulée is set, but still trembling in the centre, approximately 40 – 45 minutes.  Remove the ramekins from the roasting pan and refrigerate for at least 2 hours and up to 3 days.
Remove the crème brulée from the fridge for at least 30 minutes before browning the sugar on top.  Divide the remaining 1/2 cup vanilla sugar equally among the 6 dishes, and spread evenly on top.  Using a torch, melt the sugar and form a crispy top.  Allow the crème brulée to sit for at least 5 minutes before serving.
Alternatively, you can brulée in the oven by broiling them for 2-3 minutes, or if you dislike the crackly top, you can skip this step and it'll be a pot de crème.
Enjoy!