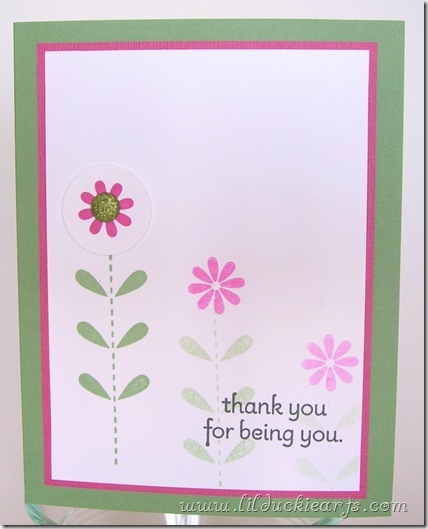 I think I'm developing some kind of skittish personality problem.  I wholly blame it on the Canucks, as I was never made to handle watching this much hockey.  My little heart just can't handle it!
I'm pretty sure that's why I play hockey – so that I have a good excuse not to watch it, thus saving myself from a heart attack.  But then conversations like this happen:
"What'd you think of the game last night?"
"Game? Canucks? Oh, I didn't catch it.. I'd much rather just play hockey… I had no choice; I had to play for my team last night.  I'm so sad I missed all those handsome men showing off their wicked skills."
OK, just kidding.  I do love watching my boys.  Kessler and Bieksa will always have a special place in my heart.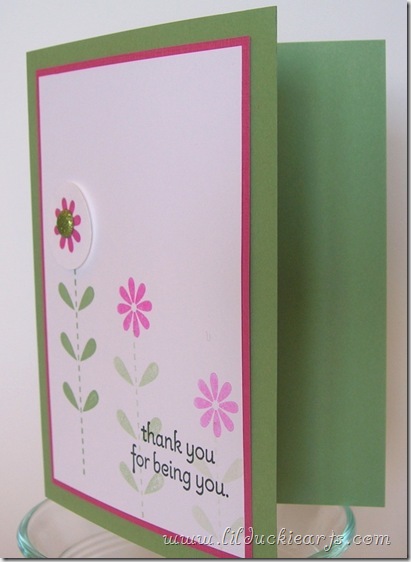 Card! So so easy! Stamp, don't re-ink.  Stamp twice more!
I punched that first flower out and added a glimmer brad.  Fun. 
Materials:
Cardstock:  Wild Wasabi, Melon Mambo
Ink: Wild Wasabi, Melon Mambo, Basic Black
Accessories:  1" circle punch, glimmer brad, stampin' dimensionals
Stamps: Bold Blossom set.
Happy Stampin'!