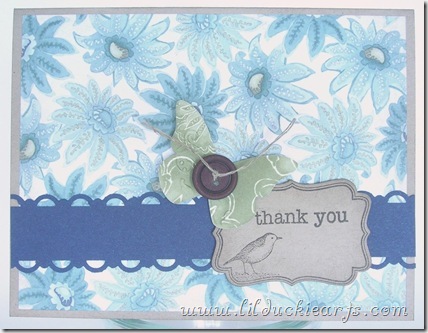 I'm sitting here icing my neck.  Next will be a warm compress.  Don't worry, I'm fine.  My neck (and hip and lower back and upper back.. ok, everything) is just a bit out of wack, so the massage therapist is trying to slowly fix me.  She said to do the whole hot/cold thing afterwards.  I forgot to use a timer though.  Oops.
Check out this card.  Check it out above there.. terrible picture of it, eh?  I messed up some settings on my camera.  I still think it's pretty cute, though.  That's a new package of designer series paper, and a new stamp set.  Surprise!  You can get it for a limited time this month (April), with a $20 purchase.  Otherwise you're just gonna have to wait until July.  Or, if you want to book a workshop, this could be the make-and-take project.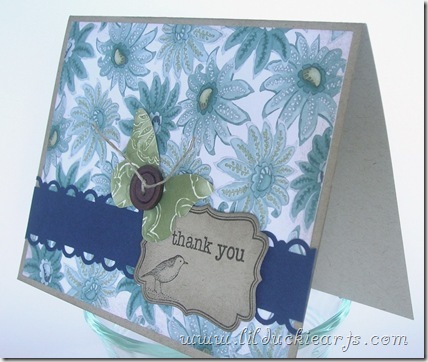 Stampin, punchin', button-in'…  I used the Big Shot and the beautiful wings die for that cute lil' butterfly (done in DSP).
Now it's about time I switch from cold to hot.  Cheers!