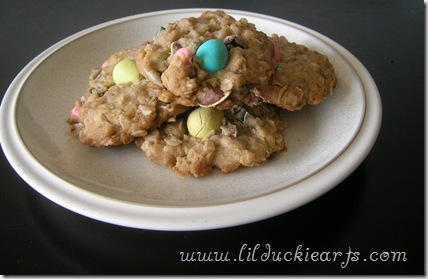 This morning was busy!  Easter egg hunts with enough chocolate to keep any kid sick for months, a yummy frittata, bacon, and toast breakfast, and a delicious hazelnut latte.  Perfect day.
To do something Easter themed, I made some Chocolate Chip Oatmeal Mini-Egg cookies.  They turned out pretty well, despite the questionable Crisco I had, and the more-than-questionable, hard and gritty brown sugar.  Use the fresh stuff, please!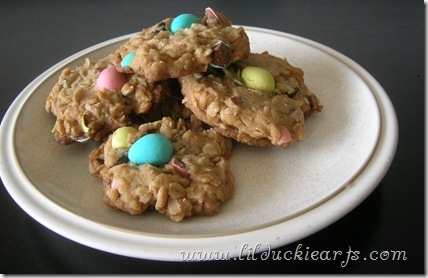 This plate of them was a quick sell.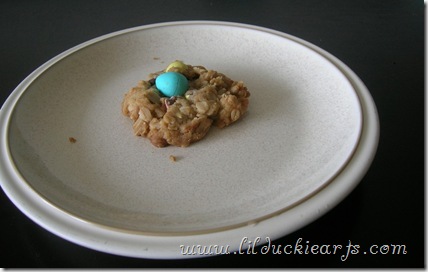 Chocolate Chip, Oatmeal, and Mini-Egg Cookies
Makes about 3 dozen
Ingredients:
1c butter, softened (or Crisco, or half and half would be good)
3/4 cup brown sugar
1/4 cup white sugar
1 teaspoon vanilla
1 teaspoon baking soda
1/3 cup boiling water
1 1/2 cup flour
1/2 teaspoon salt
2 cups large flake oats
1/4 to 1/3 cup chocolate chips
1/2 to 3/4 cup Cadbury Mini Eggs, roughly chopped, plus more for the tops
1/2 cups sunflower seeds
Directions:
Preheat oven to 350F.
In a large mixing bowl, cream together butter or shortening, sugars, and vanilla until light and fluffy.
Dissolve soda in the boiling water.  Add to the butter mixture and mix well.
Mix together flour and salt, then add to butter mixture and mix until combined.
Fold in oats, chips, mini eggs, and sunflower seeds.
Place spoonfuls onto an ungreased cookie sheet and press with a fork.  Press one mini egg into the middle of each cookie.
Bake 10-12 minutes, until the edges are light golden.
Enjoy!
PS: This recipe is adapted from my good friend Anya's favourite Chocolate Chip Cookie recipe.  It's become my favourite too, and is so easy to adapt.