Hi there,
Nathan and I finally had a planned date night!  It's taken us a while, but I decided that we had to fit one in this week, regardless of our schedules.    We've been playing ultimate twice a week, I've also been playing hockey and doing stamping workshops in the evenings.. so yes, very busy around here!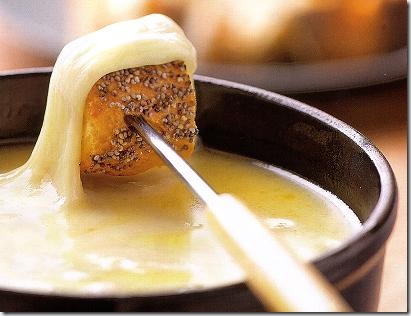 I made us up the fondue recipe from Martha Stewart Living (see below).  I suggest you cut it in half like I did, unless you have 4 or 5 people.  I also chopped up some cubes of bread, and grilled a pile of root veggies in a tasty sweet and spicy rub.
Nathan and I devoured the yumminess while watching an episode of House.  We're 8 episodes behind, which means I owe him a whole lot of TV time.
Note: I vastly prefer dates where we can actually talk to each other about plans, life, etc.  Sometimes, though, you just need to relax and let the TV wash over your tired brain.
Recipes:
Cheesy Fondue – for two
Mix together 1 cup each of shredded cheddar and gruyere with 1 T flour.  Bring 1/2 cup dry white wine to a simmer over medium heat. Gently whisk in cheese, a small handful at a time.  Allow to simmer on low.  Stir in a pinch of nutmeg.  Transfer to a fondue pot and enjoy.
Sweet and Savoury Roasted Root Vegetables
Slice up a big assortment of root vegetables.  I used carrots, sweet potatoes, yams, parsnip, and beets.  Toss them in a bowl with a couple tablespoons of olive oil and the spice rub.  Bake at 425F for 30 minutes, stirring and turning them every 10 minutes.
Spice rub
1.5 t cinnamon
1.5 t chilli powder
1 T brown sugar
3/4 t  paprika
1/5 t kosher salt
Try out those root veggies.  They're delicious, fondue or not.  I'd bake them up for a great side dish any day.  This was my first time trying parsnips, and I LOVED them!
To see others' dates, head on over to the Project 52 section of Simply Modern Mom.