Hi there,
It's been a while since I posted a card.  I've been preoccupied with thoughts of school, friends, sewing, and joining Stampin' Up! as a demonstrator.  That's right, I'm now officially a demonstrator!  I haven't received my starter kit yet, but I'm so excited to start!
I got my SU website all set up, so you can contact me there, shop online, get ideas, and set up workshops.  There's so much fun coming my way!
To celebrate, I made this fun pink card using Stampin' Up! materials.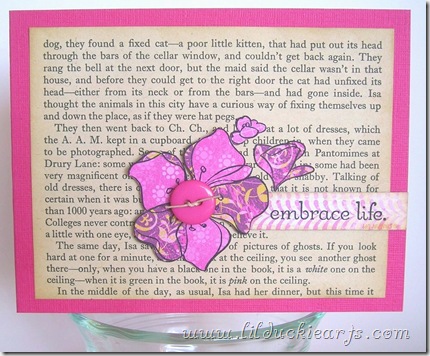 The card fits into one of my favourite challenges – Sketch 97 over at Clean and Simple Stamping.  Head on over there to see what others have done.
I just love the simplicity, and of course, the vintage book paper.  Don't read too closely, it's something about a dog taunting a cat whose head was stuck between window bars. But the cat got away!  Happy ending ;-)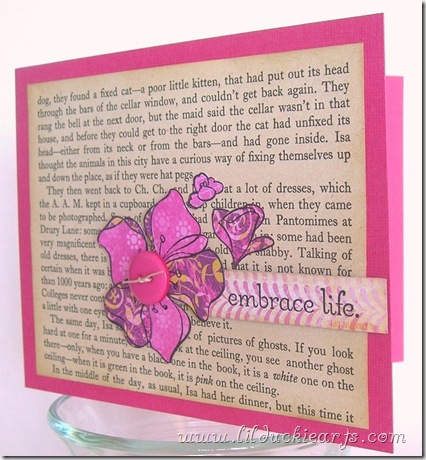 I'm anxiously awaiting my Stampin' Up! starter kit.  In the meantime, I will play with these discontinued items I just *had* to have before they were gone.  Please let me know if you'd like to set up a workshop with me, and we'll figure that out :-)
Here's today's challenge sketch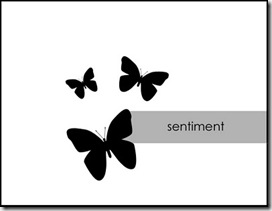 Materials:
Stamps: Embrace Life set (paper pieced) – Stampin' Up!
Cardstock: Melon Mambo, Razzleberry Lemonade paper (Stampin' Up!), and vintage book paper
Inks: Versafine Onyx Black, Antique Linen distress ink
Accessories: Hemp thread, button (Basic Gray), dimensionals.