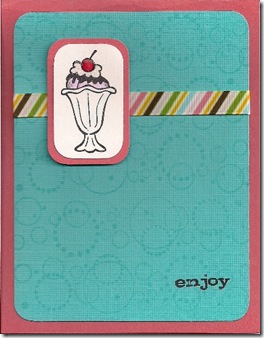 This Card is one of my summer favourites, but I can imagine using it in the middle of winter when I want to feel a bit of summer cheer on a rainy day.  I love the colours and the glitter and how it jumps out at me with cheerful exuberance.  My inspiration was the ribbon.  I started with it and found some colours and things that I thought might work.  And of course I wanted to have a cherry that looked shiny and almost real!
Materials
Stampendous clear sunday stamp
Stampendous clear 'enjoy' stamp
Swirly background stamp of your choice
Versafine Onyx Black ink
Versamark Ink
Twinkling H2Os
Ribbon
Prisma Glitter
Diamond Glaze
Corner Punch
Double sided tape
Glue Pen
Double sided foam tape
How-to
Cut cardstock to desired size and use corner rounder on all the edges except for the background card
Stamp background  middle layer in Versamark ink
Stamp sunday in Versafine on white cardstock
Stamp 'enjoy' in Versafine over background middle layer
Attach ribbon over middle background layer using double sided tape
Paint Sunday with Twinkling H2Os
Use a glue pen when you want the Prisma Glitter, then add glitter
Put a dot of Diamond Glaze on the cherry and let dry (30min)
Glue everything together – use double sided foam tape for the Sunday + its background layer et voilà!