I definitely have a weak spot for flowers.  I have more flower stamps than any other; ditto with flower punches.
It can't be that it's getting close to spring here.. we still haven't had any snow to speak of.. but really, it doesn't need to be any special time of year to convince me to make  a flower card.  Who doesn't like a bit of colourful cheer?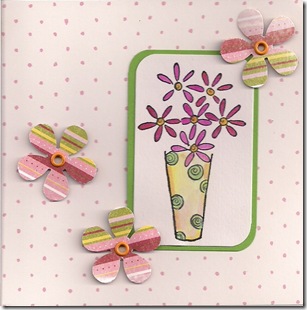 The stamped image is by Penny Black, painted in with Twinkling H2Os. The card (background) is by Amuse and the flowers are punched out in some scrapbook paper scraps that I had lying around.  I then punched little holes in their centres and attached some eyelets.
Happy Spring! I mean, winter!