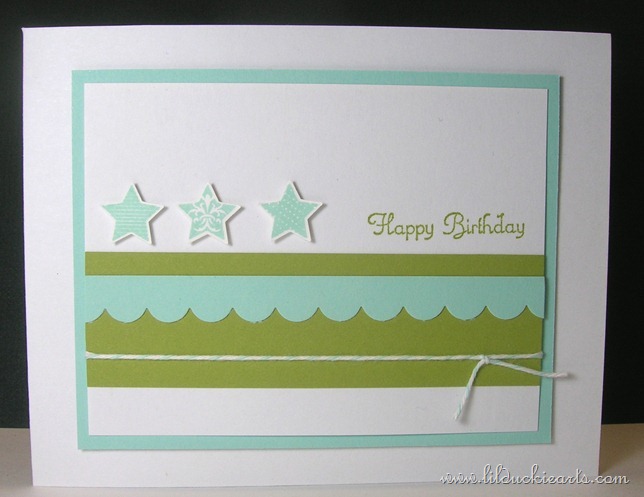 I just spent a good 20 minutes examining my living room floor. There is a whole lot of dust, dirt, Nathan's cereal, and little rock chips down there. Oh the rock chips.. Definitely the bane of my existence. That's what we get for having an old marble floor. Little bits of marble seem to appear moment by moment. You think you've done a good job at cleaning, but nope! Think again! Little baby stomach sweeper can find anything! She does such a good job of scooting around backwards on her tummy. Never mind that she really just wants to get that toy that's 10 inches in front of her.
I think about how I should give it a good vacuuming again.. but then I think about how my craft room is calling my name.. so I make you a card!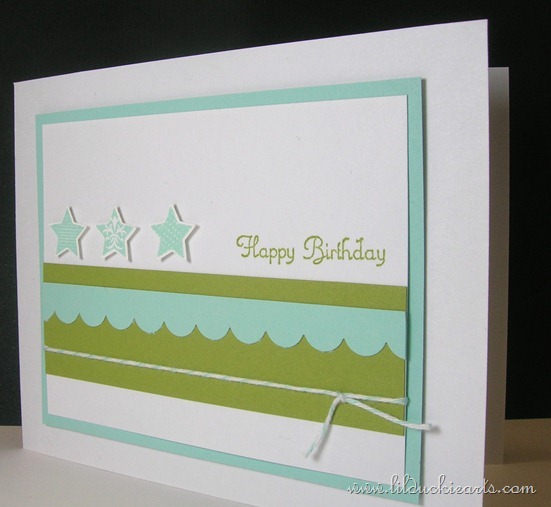 A birthday card! Using Christmassy stamps! Whodathunkit?
Materials
Lucky Limeade, Whisper White, and Pool Party Cardstock. Lucky Limeade and Pool Party Inks.
Merry Minis and Create a Cupcake stamp sets.
Scallop Border Punch and Merry Minis punch Pack.
Pool Party Bakers Twine