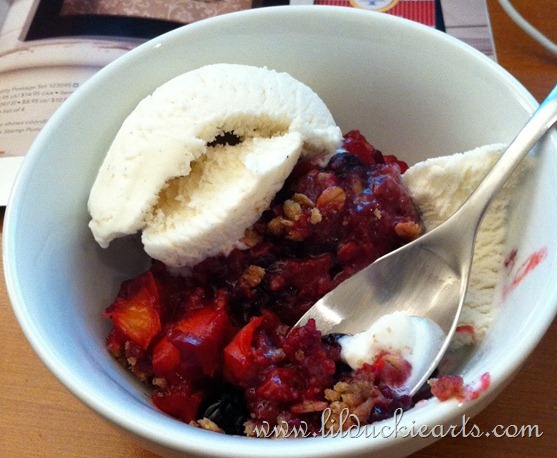 I took pictures of this dessert as I was eating it. It was one of those "wow, this is gooood! I just have to share" moments. Cell phone camera to the rescue!
This crumble is ridiculously easy to make, and I'm pretty sure Nathan will be saying I have to make more to go with his ice cream ;-)
My version had apricots, nectarines, blackberries, raspberries, a few slivers of apple, and blueberries, but you really don't have to be crazy like me. Just throw in whatever fruit you have on hand.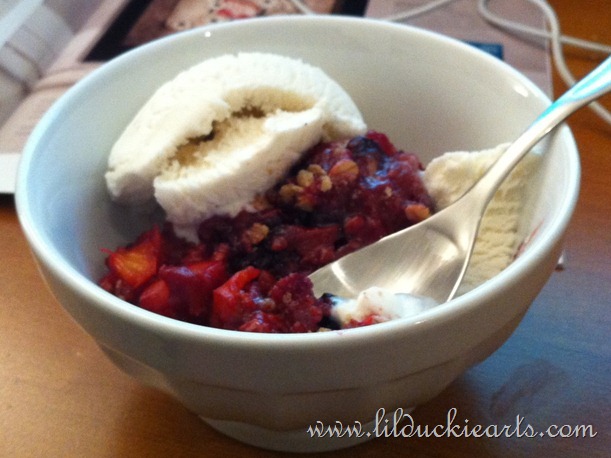 Easy Peasy Fruit Crumble
4-ish cups of fruit in bit sizes (berries, apples, or stone fruit are great)
1 cup flour
1 cup brown sugar, lightly packed
3/4 cup old fashioned oats
pinch of salt
1 teaspoon cinnamon
a dash or so of allspice
1/2 cup cold butter, cut into little pieces
Preheat oven to 375F. Toss fruit into an 8×8" square pan
In a bowl, combine all of the other ingredients (not the fruit or the butter yet). Stir them up well, then toss in the butter and crumble it in really well with your hands.
Toss about a cup of the topping with the fruit, then spread the remainder over the fruit and bake until the fruit's nice and bubbly and the topping's golden and delicious (about 30 minutes).
Enjoy!