Hey there,
This week's date was fun! (OK, they're all fun, but I love when they involve food).  We had 2 friends whom I hadn't seen in years over for dinner.  It involved food prep. Lots.  I made some delicious guacamole, fabulous salsa, a yummy salad with grapes, goat cheese, pecans, and the best shish kabobs with a warm crusty bread!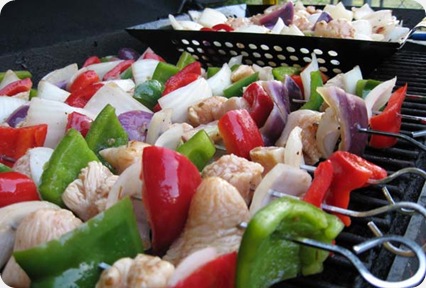 (not my picture)
Nathan grilled the shish kabobs to a juicy, tender perfection.  Trust me, I was happy to see that we had enough for leftovers the next day!  The secret?  All I did was chop up my veggies (peppers, zucchini, and onions), chop cubes of chicken breast, and peel prawns.  In 3 separate bowls I marinated them in some low fat Greek salad dressing for an hour or so.  Stick 'em on skewers and grill.  If you're using wooden skewers, soak in water for several hours first.
We chatted with these friends a whole lot over the yummy food.  These people are great athletes who now do bike racing for fun.  (Crazy? I think so!)  It's pretty intimidating, but I'm trying to be motivated by them.  I have yet to ride my bike in the last millennia 8 years.
Check out Simply Modern Mom for Tiffany's date, and check out others' date nights by clicking on the links under Project 52: Date Night.
Follow the links at the top for the recipes for the guacamole and salsa.  And get the salad recipe after the jump!
Shauna's Grape, pecan, and goat cheese salad
Adapted from Fine Cooking Magazine – Oct. Nov. 2009.
Use a colourful assortment of grapes.
Serves 4-6, easily doubled
3 Tbs. Red wine vinegar (mixed with white grape juice if you have it)
2 Tbs. Grapeseed oil
1 ½ Tbs. Finely chopped shallot
8 cups lightly packed baby frisée or mixed salad greens
2 cups mixed grapes, halved and seeded
½ cup crumbled goat cheese
Kosher salt and freshly ground black pepper
In a salad bowl, whisk the vinegar and the oil. Add the shallot and let sit for 5min. Add the lettuce, grapes, and cheese and toss to combine. Season to taste with salt and pepper.
***Add yummy things like pieces of pecans, shaved zucchini, and craisins.