Hiya, and happy Tuesday!
This past week was another tough one, as far as dates go for us.  Nathan had this lovely cold (and by lovely, I mean terrible.. he was nice enough to sleep in the other room so his coughing out a lung wouldn't keep me up all night).  Any kind of date together was definitely a struggle.  We did have some friends over for one Canucks game.. then I headed to a Birthday party sans mon date.
So my solution?  A delicious dinner for us to enjoy while watching another Canucks playoff game.  Seeing a pattern here?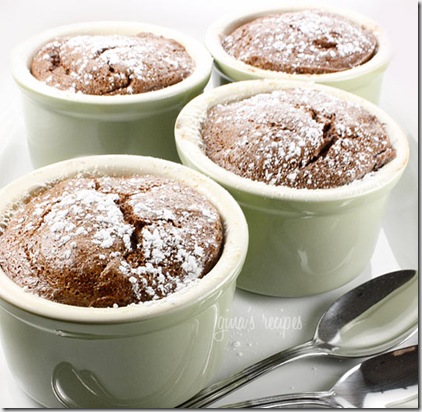 So the good stuff first!  I made these little gems for our dessert.  They're delicious (and surprisingly light!) chocolate banana soufflés, courtesy of Gina's WW Recipes.  Only 112 calories, ladies!
The main course was my very favourite.. Pan seared salmon with a grape salsa (best salsa EVER! Get the recipe after the jump), rice, and green beans.  Nathan, who apparently doesn't like fish much, thinks this may be his favourite meal that I make!  Nice.  There's so much that I love that he hates.. but hey, I'm the cook here, so he can live with it ;-)
Check out others' dates for Project 52: Date Night over at Simply Modern mom!
In a small bowl, mix together
1 cup quartered red seedless grapes,
1 shallot, minced,
1/2 tsp salt,
2 tbsp chopped fresh basil
2 tbsp balsamic vinegar. 
That's it.  You can let it sit a bit while you make your meal, to let the flavours blend together.