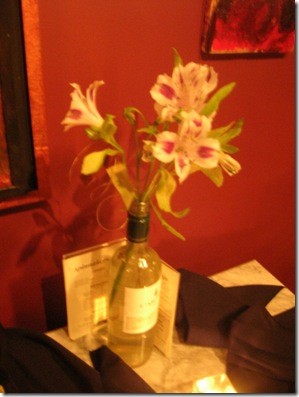 It seems like we've been a bit repetitive with the typical "going out to dinner" date.  However, I had a good reason for dining out this week!  It's the annual Dine Around and Stay in Town event here in Victoria.  Restaurants have delicious 3-course meals at various price points.  It's a great way to try out new restaurants, and living in Victoria, there are a lot!  It was the last week of this event, so I wanted to get us out to at least one place.
I found a menu that looked rather appetizing and called up the restaurant, which also had a neat name.  The one I chose was Sips Artisan Bistro.   It was a cute little wine bar type place that could be fun to go to with girlfriends.  For some reason Nathan's not really into wine bars or tapa bars or other such places, but this one turned out to be pretty good.  My meal was delicious.  Nathan found his main course a little less to his liking.  I don't think he's a fan of celeriac and other such "odd" vegetables.  He said "it was very bland with dashes of bitter." Oh well, we know what to stay away from if we ever go back! However, their chocolate espresso mousse is amaaaazing.
We had some leftovers to add to our lunches the next day.  I LOVE leftovers.  One more thing that I don't have to cook? Yes please!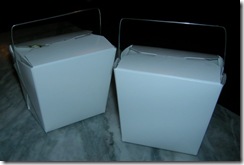 And the best part of this date?  I secretly brought along some paper and pens.  Before any food came, we spent out time writing ideas of what we would have in our dream home.  For me, a craft room with lots of table space and natural lighting.  For him, pretty much the same criteria for his office, and the whole house wired to the nines. 
This was a fun project to see what our goals are, and to see that we can actually realize some of these dreams.  How exciting!
Check out others' date nights at the blog of the amazing woman who started all of this – Tiffany, over at Simply Modern Mom