Who doesn't love a fun challenge?  In card making, we seek them out.  And I certainly do love it when this challenge comes with some layouts to follow.  So the other day I started my first one-sheet wonder.  I was inspired when I saw this post at Sweet Pea's Story. The template used is here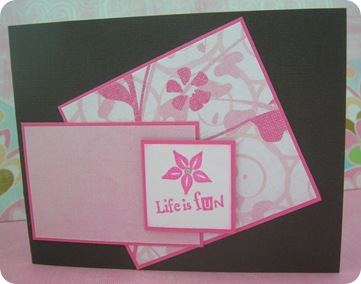 You find some patterned paper that you really like, and all you need is a 6"x6" square of it.  You chop that up, following the pattern instructions, then make 4 beautiful cards – using other materials, of course.
I had so much fun with this project.  It took me a long time, but I bet it'd get faster if you did a few different sets.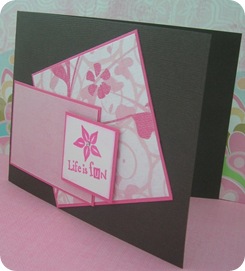 For this card, I embossed the flower and "Life is fun" in Glitter Galore, on top of VersaColor peony, then I added a little jewel to the flower.
I'll post up the other 3 soon!