Card #2 of the one-sheet wonder cards done (using the handy dandy template).  Card #1 is here.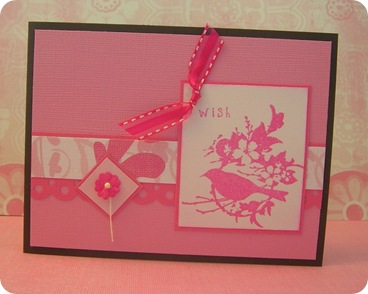 This is definitely a lot of pink! Pink background, pink borders, pink paper, pink ink, pink flower, pink ribbon.  Woah.. the word "pink" is starting to sound like gibberish to me.
I used a Martha craft punch for the pretty holey border, and the paper flower is from a local person here.. although I'm thinking she buys them bulk and re-packages them.  I'm fond of this collage-ey bird stamp.  It's from an Inkadinkado clear set.
Wish? Always.