I managed to finish my last two cards today!  Boy oh boy did that take a while.  I was trying to be imaginative, which wasn't coming easily today.  And everything seemed so pink.  Well, that was the point, lots and lots of pink.  I do love it with the dark chocolatey brown!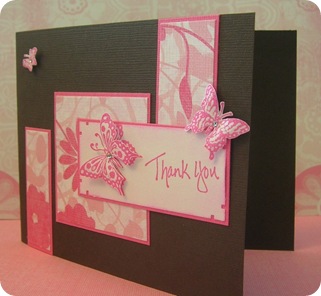 I have a special place in my card-making heart for butterflies.  They're just so delicate and pretty.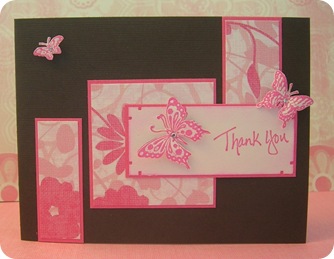 I used a very old PSX stamp for the butterflies.  You know a stamp's old when the company hasn't been around for years!  I stamped the little guys in VersaColor Peony, and embossed them in Glitter Galore.  Next, I cut them out and bent the wings a bit.  I used foam tape to stick them to the card for a bit of extra dimension.  Each little guy has a gem in the centre.. I think they were originally nail art gems!
Card #4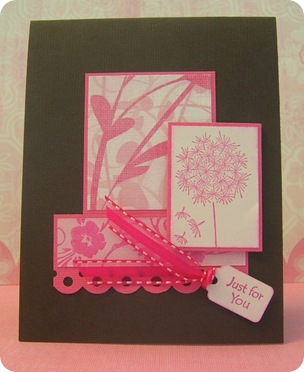 I'm a fan of cards that sit upright like this.  This can be achieved by cutting your 8 1/2 x 11" cardstock in half the long way so that you have two pieces that are 4 1/4" x 11".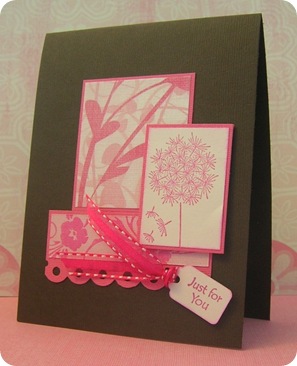 I bought the dandelion seeds stamp from Hero Arts a few weeks back because I think it's simply beautiful. Or beautifully simple :-)  Like in my other 3 cards, I stamped using VersaColor Peony ink, and embossed with Glitter Galore embossing powder.  I don't know what I'd do without Glitter Galore!
Oooh, and pink strip on the bottom I stamped using an Inkadinkado clear stamp and the same Peony ink.
Other Materials used:
Celebrate It Ribbon from Michaels, Martha craft border punch and tag punch, VersaColor Orchid ink (for edging) and Momento Lilac Posies ink.
One-sheet Wonder roundup
I deem it to be a pretty successful (and fun!) project.