This was Nathan's week to plan our date, so can you guess what we did?  Yep, it involved a game!  We played a great game of Catan with two of our friends – Brian and Diana.
My lovely husband is the one making the crazy face on the left.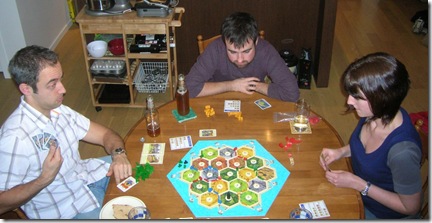 Nathan and I had been feeling a bit out of touch with our friends lately.  After being in Vancouver for 2 years, we felt a bit like everyone had their own routines, and we were too slow to create some good ones of our own upon moving back here, with the wedding planning and everything.  Anyways, we both really want to make an effort to connect with friends, and I think this was a pretty good night for that!
Neither Brian nor Diana had played Catan before, but they picked it up pretty quickly.  Maybe they'll win next time ;-)  For today, it was me!
I love this game because it doesn't have to be too competitive.  I often struggle with games against Nathan because the logical Engineer side of him has to always be thinking about strategy and the "best" way to do things.  However, with Catan, you can plod along in your own little world and still end up doing OK, or at least feeling like you're doing well!  Just never ever play the 2-player version (there's an extension for that).  I think I cried when Nathan and I decided to give it a shot.  Wow, him against me in a battle for the win wasn't as fun as regular Catan.
Hopefully we can have these two over for game times again.  It made for a fun and relaxing night.
Now, take a look at Simply Modern Mom's site and her Project 52: Date Night project that she started.  You can browse all the dates that others have done as well.