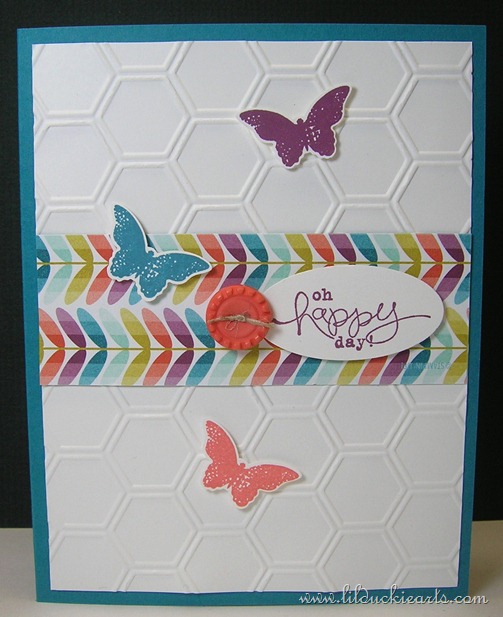 Hello!
I apologize for not getting a post out last week. I just didn't have any cards to share, but since then I've been busy creating while L tugs insistently at my pant legs. We've had a bout of the flu to deal with, and my fingers are tightly crossed against it being passed on to me or L.
Last week I thought I was doing so well fitness-wise, with 3 days of exercise in a row. Since then things have gotten a bit crazy and I haven't done anything. Nothing, for nearly a whole week. That's not the right trend to be starting. A run tomorrow? I think so!
I got my shipment of new stamps from the spring mini catalogue, as well as from Sale-a-bration. They're all so great!!! I'm in love with so many things – that sale-a-bration butterfly and sentiment set (Bloomin' Marvelous), that Designer Series Paper (Sycamore Street DSP), and especially that Honeycomb embossing folder!
The best part? You can get so many things for free with Sale-a-bration right now! Just host a successful workshop, or get a free item with every $60 you spend (pre-tax/shipping).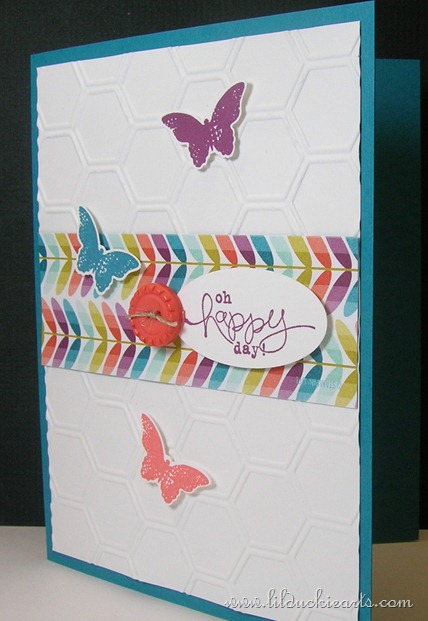 Materials:
Whisper White and Island Indigo Cardstock, Sycamore St. DSP.
Tangerine Tango, Island Indigo, and Rich Razzleberry inks.
Bloomin' Marvelous Stamp set, Sycamore St. Ribbon & button pack (buttons).
Big Shot and Honeycomb Textured Impressions embossing folder, and Linen Thread.