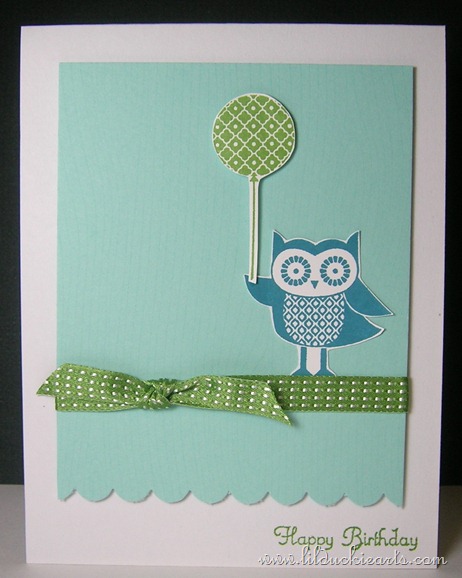 L won't be winning any prizes for graceful crawler of the year, but we have movement, folks! She's started to push herself backwards, to her great dismay. The toys just get farther and farther away from where they should be… Don't you hate it when that happens?
And no, I'm not the least bit prepared. We haven't baby-proofed anything, and we've got the world's most dangerous house. Uh-oh! Right now I try to contain the beast as Nathan searches for the best methods to make things better around here. What do you do about a marble floor and a giant fireplace with a big floating hearth? Perfect face-smashing things.
For now I'll just think about this card. Little friendly owl, in colours fit for a boy. Boys are always having birthdays it seems.
Materials:
Whisper White and Pool Party Cardstocks; Versamark, Gumball Green, and Island Indigo Inks.
Owl Occasions, Woodgrain, and Create a Cupcake stamp (sets).
Gumball Green Ribbon, and Scallop Border Punch.