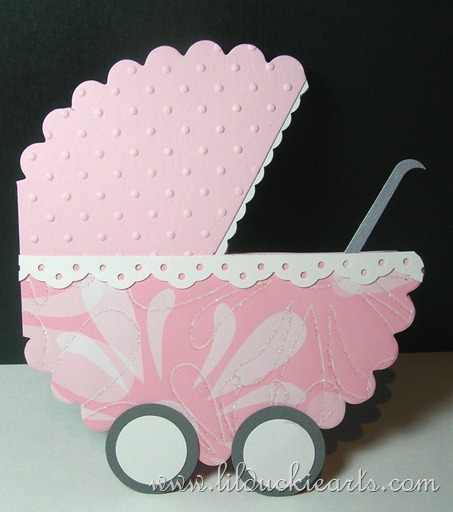 Hellooooo!
After all this baby stuff, I had to create my own hand-made baby announcements. It just didn't seem right for me to go the usual route and send one of those cute picture postcard type announcements, since making cards is such a big part of my life. These were not quick and easy to make, especially not in the quantity I needed. There's a whooooole lotta steps involved, but I'm pretty happy with the end result, especially since they just fit into a standard invitation-sized envelope.
I've seen versions of this card all over the internet, such as at Patty's Stamping Spot. I'm really quite happy with my version, even though it involved so much work. For the buggy handle, I used the little Word Window punch sort of layered on top of itself. It worked out great!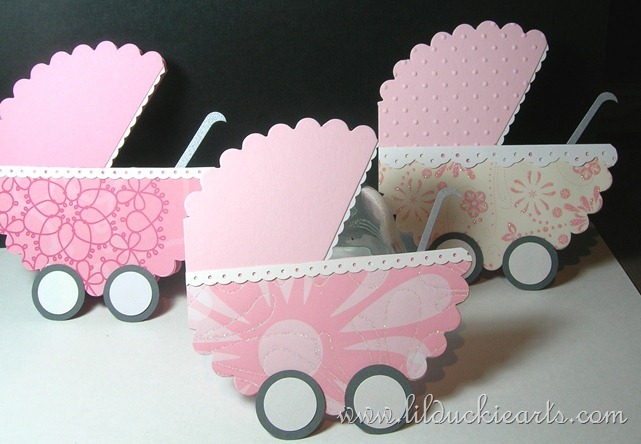 They're all slightly different, which is fun. I didn't do the little textured dots on most because my patience simply ran out. That would have taken me another day's worth of work or more.
On the inside we've got our little announcement, a picture, and then a personal note. It was a tight fit, but still worked out.
How'd I use the scallop die to make a card? I cut a piece of cardstock in half to measure 5 1/2" x 8 1/2", folded it in half, then ran it through the big shot so that the fold was missing a few of the scallops (maybe 4 or 5 of them), so it didn't get cut there. Then, find the centre point and cut out a little pie slice (about 5 scallops' worth).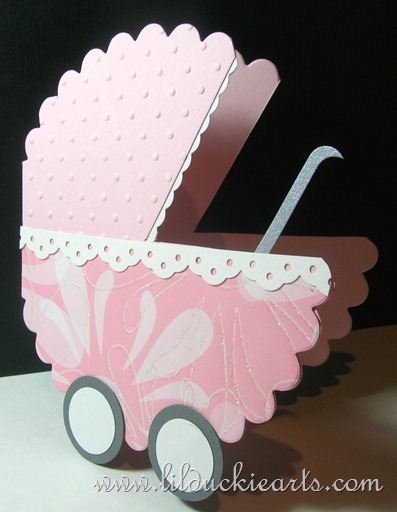 Materials Used:
Whisper White, Pink Pirouette, Brushed Silver, Basic Grey Cardstock, and Flirtatious Specialty DSP, as well as some DSP I got on clearance from a few years back.
Scallop Circle Bigz Die, Perfect Polka Dots Embossing Folder, Word Window, Dotted Scallop Ribbon Border, Eyelet Border, 1" circle, and 3/4" circle punches
Hoooooray for baby L!