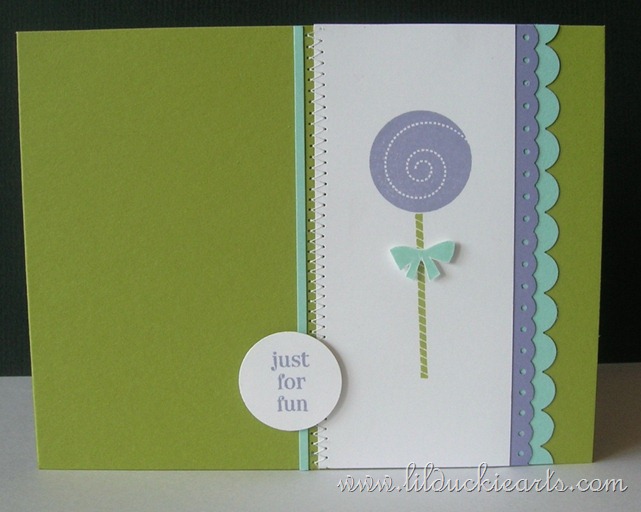 Hi there,
Yesterday I made a discovery. I went home to visit my family, and we ended up making a trek out to a swimming hole somewhere in the middle of the boonies. A few wrong turns and a 25 minute walk later, and we were at the most amazing man-made lake (an old limestone quarry) I'd ever seen. How did I miss out on this place my whole life?!? I'm almost feeling cheated. The water was a beautiful clear turquoise (thank you, limestone), and such a refreshing temperature without being cold. It's definitely a place to remember.
So in keeping with my whole whimsical cards theme (I have a class for that this Sunday), I've done a purple lolli card. It's pretty darn similar to a card in the current Idea Book and Catalogue, but I changed a few things.
This is my very first sewing attempt on a card! Aren't you impressed? OK, it's not really that impressive, and I'm a bit sad that I hadn't tried this before because it's so easy. You just choose a thread colour that appeals to you, a stitch that you like, and go for it. Be aware that the needle dulls more quickly from paper than from fabric use.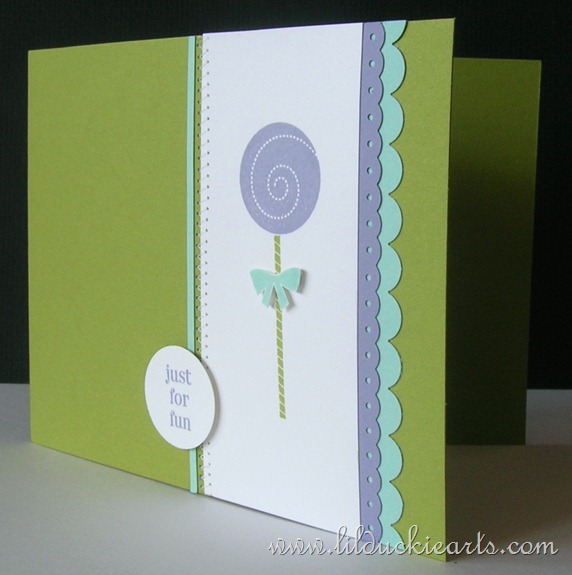 I'm really quite a fan of the two different scalloped borders layered together like that. Must do again. Brain, please remember this.