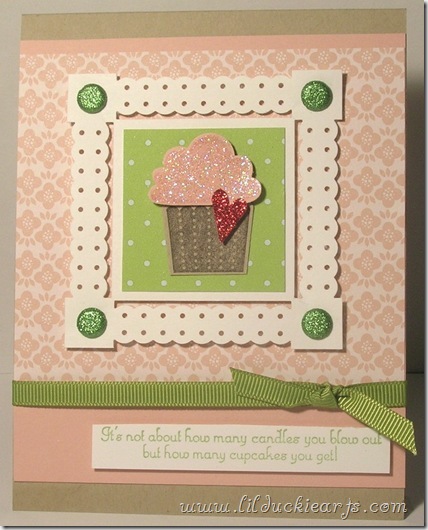 I thought I was quite proficient at reading the internet.  It's a skill that I develop daily while attempting to read the entire thing in one sitting.  I read for hours, usually coming away not having retained much.  Reading the entire internet puts a bit of a strain on the brain, so it's no wonder I can't remember any of it.
Try as I might, there's always new stuff to read the next day.  It's like a never-ending cycle that breeds the need to read more, More, MORE!  PS: not my rhyming there?  I tried not to.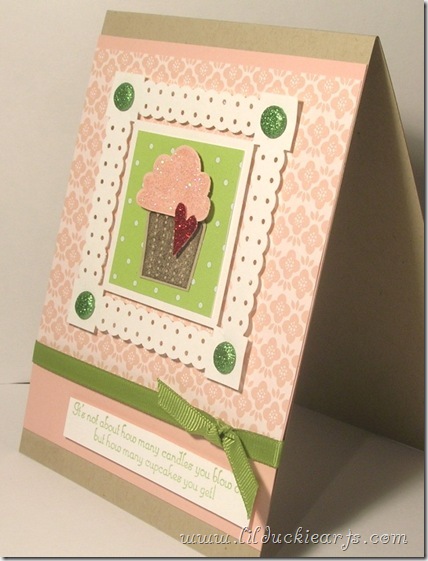 I didn't, however, come up with this card through reading the internet, but I still can't take credit for it.  I totally swiped it from Shannon West at the Stampin' Up! regional in Vancouver.  She had the super clever idea to do that amazing border around the cupcake.  I'm pretty confident that I would have added all that glitter, had I been left to my own devices, though.
To do that super cool border, you need the Dotted Scallop Ribbon Border punch.  Centre the punch on a piece of 3" x 3" cardstock, and repeat on each side.  Voilà!  Add brads, some patterned paper in the middle, a cute sparkly cupcake, a cute sparkly heart, sparkly brads, and you're nearly done.  I layered some Blushing Bride DSP on the same colour of cardstock, then onto a Crumb Cake base.  Add some ribbon and the sentiment, and show it off to all your friends.  They'll love it.