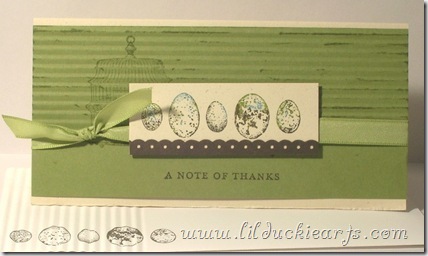 My head's all upset at me for staying up later than should be considered human last night.  But hey, my husband must be some kind of a zombie, because he's always got 2+ hours on my bedtime. 
To counteract my Saturday morning grumpies, I decided I'd share this adorable little number.  About 300 of us Stampin' Up! demonstrators whipped this card up as a make-and-take project at the regional a few weeks ago.  Pretty eggs, right?  Pretty brown border, too.  I love that use of the punch being chopped in half.  And seem binding as vintage ribbon?  Yes please!  This cards gets me all excited for an upcoming vintage class that I'm doing.
I think it's pretty darn clever how the envelope was crimped to match the card.  Future me: remember this little idea!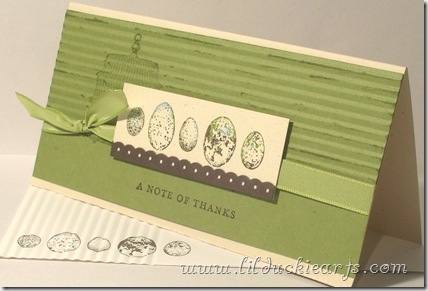 Fun fact: I get to make cupcakes at a baking class tonight, and I get to teach making cupcakey cards at a stamping class tomorrow.  Ideal weekend; Bye bye grumps.