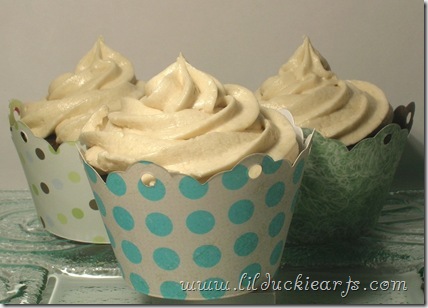 Make these.  You really need to, and then you can thank me.  But seriously, if you have some free time, give these a try because they are amazing.  The stout adds more intensity to the chocolate cupcake.  The Baileys adds an extra kick to the ganache, and the buttercream doesn't taste like beer.  I promise.  It gives it a silky richness with a hint of caramel.  So dangerous.  I had some left over in the fridge, and unashamedly snuck a few spoonfuls.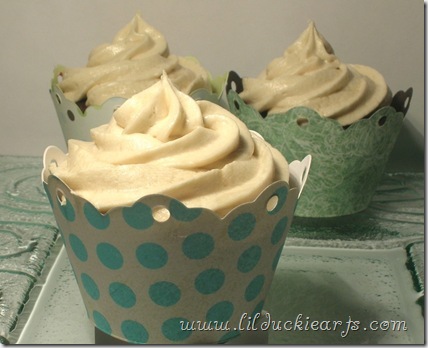 Of course, since I love me some paper, I had to make these adorable little cupcake covers.  Cupcake cozies? Cupcake decorater thingamos?  Whatever you want to call them (I prefer that last one, really), they add such a lovely girly touch.  They'd be perfect at a bridal shower, or any party where there's a colour theme.  I just ran some cardstock through my big shot, using the Perfect Setting die.  It does many layers at a time – bonus!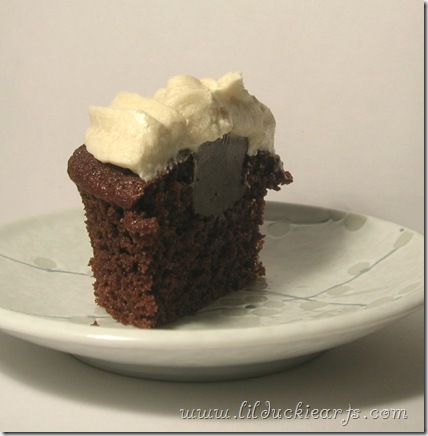 Check out that ganache.
Here's some more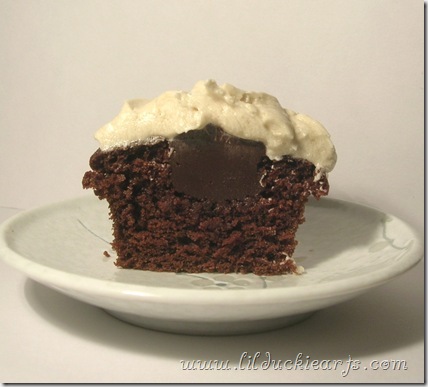 I'm making these again, and soon. Like this weekend soon. That's probably a very bad idea, but with all these sports they've been making me play, I think I've earned a couple dozen cupcakes.
OK, go make them!
Yield: 12 iced and filled cupcakes
Chocolate Stout Cupcakes: (Adapted from Bown Eyed Baker)
1/2 cup stout beer, such as Guinness
1/2 cup unsalted butter at room temperature
3/8 cup cocoa powder (Dutch-process if you have it)
1 cup all-purpose flour
1 cup sugar
3/4 teaspoons baking soda
1/4 – 1/2 teaspoons salt
1 egg
1/3 cup sour cream
Baileys Ganache Filling:
4 ounces dark or bittersweet chocolate (I used bittersweet)
1/3 cup heavy cream
1 tablespoon butter, at room temperature
1 tablespoon Baileys
Stout Buttercream Frosting: (adapted from the Family Kitchen's Julie VR)
1/2 cup butter, at room temperature
3 cups icing sugar
1/4 – 1/3 cup stout beer, such as Guinness.
For the Cupcakes:
Preheat oven to 350 F.  Line a cupcake tin with 12 liners.  Bring the beer and butter to a simmer in a heavy, medium pot over medium heat.  Add the cocoa powder, and whisk until smooth.  Remove from heat to cool slightly.
Whisk the flour, sugar, baking soda, and salt in a large bowl to combine.  Using an electric mixer, beat the eggs and sour cream on medium speed until combined.  Add the beer and chocolate mixture to the egg mixture and beat until just combined.  Reduce to low speed and add the flour mixture.  Beat briefly.  Fold the batter until completely combined.  Divide the batter between the cupcake liners, making them as even as possible.  Bake until a thin knife comes out clean – about 17 minutes.  Cool on a rack.
For the Ganache Filling:
Finely chop the chocolate and transfer it to a heatproof bowl.  Heat the cream until just simmering and pour it over the chocolate.  Let it sit for one minute, then, using a rubber spatula, stir it from the center outwards, until smooth.  Add the butter and baileys and stir until combined.  Let the ganache cool until thick, but still soft enough to be piped. (You can pop it in the fridge for 10 minutes or so).
To Fill the Cupcakes:
Use the bottom of a large decorating tip (I used a 1M tip), cut the centers out of the cooled cupcakes, going about 2/3 of the way down.  Eat up those pieces and revel in how good these are going to be.  Transfer the ganache to a piping bag, or into a ziplock bag with a corner snipped off.  Fill the holes of each cupcake to the top, or even a wee bit overflowing.
To make the Stout Frosting:
Beat the butter, icing sugar, and beer until it's nice and fluffy.  Scoop it into your piping bag or a ziplock with your favorite tip (I used the 1M tip for mine).  Pipe out your swirls, and devour.