Hi again,
Things are busy, busy, busy!  I'm trying to organize myself for the cruise we're going on.  We leave Wednesday morning for Long Beach (Cali).  We're spending a day at Universal Studios, followed by two days at Disneyland.  On Sunday we head to the cruise ships where we'll be on a week-long cruise along the West coast of Mexico with Nathan's extended family.  It's going to be one fun trip, and I promise to share a few pictures.  I'll even try to do some blog posts, but you know how that goes ;-)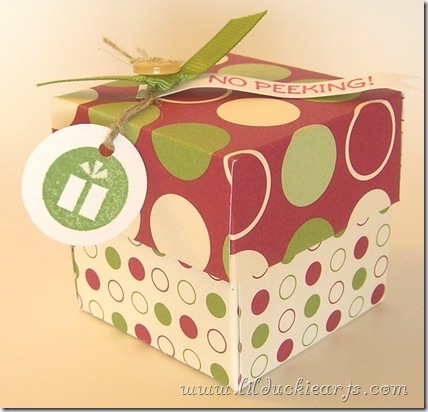 Today I have for you a mini little Christmas gift box.  I love making these boxes, since they're so cute and simple.  You start out with a piece of decorative paper or cardstock that is 6"x6".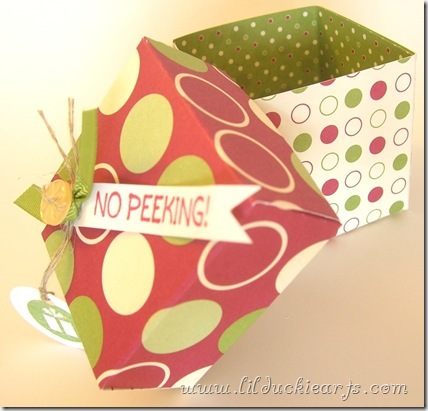 Score the paper at 2" and 4" so it folds up into a 2"x2"x2" box, and adhere together.  The bottom's done!  You can either make the top pretty much the same, or follow the pattern I've made.  It's got some extra folds in there.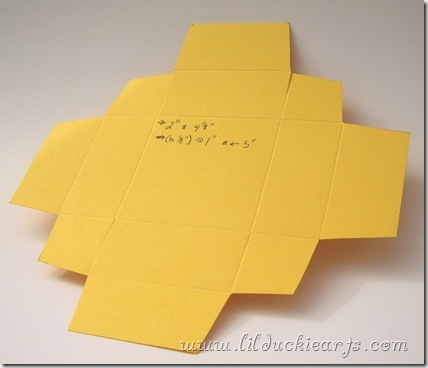 Add some embellishments.  I love doing my sentiment on a little banner like this (cut out tails).  Add a tag, ribbon, a button, and you're done.  Glue dots work especially well for adhering all those things.  Now you need to fill your box with special goodies, of course.  And send some to me.  Especially if they're chocolates.. yum!