A month or so ago I purchased some herbs in an attempt to always have the fresh stuff on hand for added deliciousness in my cooking.  I started with last year's chives, rosemary and lemon thyme.
My additions were some much-needed sweet basil, Italian parsley, peppermint, and cilantro.  When I bought the cilantro, it looked all big and green, but it had needed to be transplanted about 3 weeks prior!  I nearly lost the whole bunch, but after some coaxing (water and sunshine and a dose of flower extract to kill off aphids), it's just started to flourish.
Check out how they've grown.  The peppermint has gone crazy (as expected) and I've already made some gosh darned good mojitos.  I also got to use a pit of the parsley in a pesto that I'll post about sometime soon.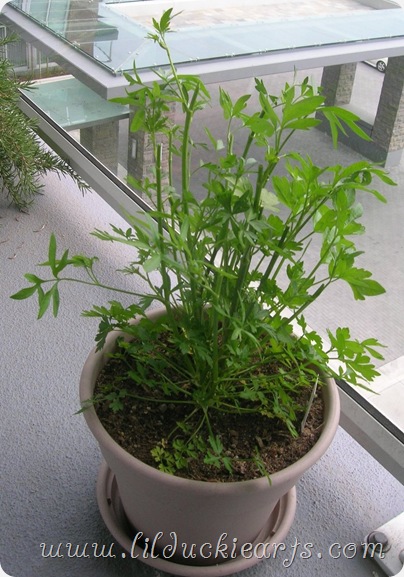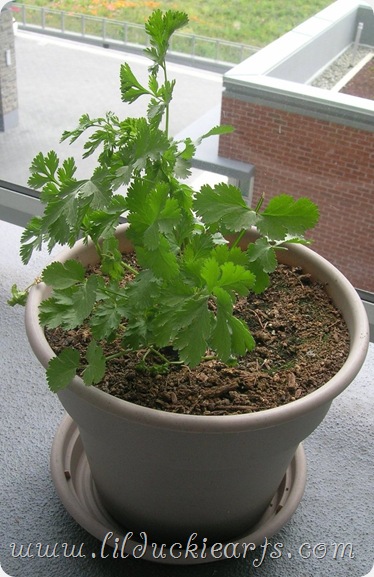 I also recently bought some more cilantro and some beautiful purple basil (just for the colour).. but unfortunately the basil isn't too happy with me.  I put it outside where it's just not basil temperature yet.  Most of it died 2 days ago :(
My goal is to have a great big lovely amount of basil, as it's my favourite herb.  I'd really like to try to make some real basil pesto.  I've never done that before – nope, just parsley pesto.  Can you make it grow? Send little growing fairies my way.
Cheers,