This was Nathan's date, and for a simple one, it sure was delicious.. I mean fun!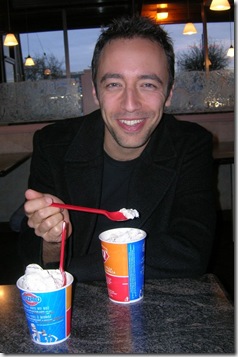 He took me out to Dairy Queen for some ice cream.  It was like we were back in high school or something.  In fact, there was an adorably cute young couple snuggled in a corner booth nearby. Oh to be 15 and "in love."
I should have gotten another picture of our delicious Blizzards for perspective, but mine's a small, and his is a medium.  That's a lot of ice cream, yo!  What flavour, you ask?  We both opted for Reese's Pieces.
Interested in other date night ideas, or taking part in this fun project?  Head on over to Simply Modern Mom's blog and her Project:52 section.