I found some darned cool eyelet flowers on a bunch of cards over at Snappy Stampin' w/ Arielle.  Aren't hers adorable?  Looks like she's practiced a bit, and has some fabulous eyelet edge punches that I definitely covet!
My first flower was pretty much the equivalent of eyelet flower FAIL.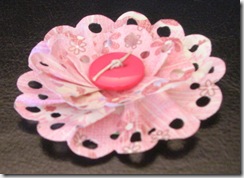 Actually, it almost looks OK in picture format.. Maybe I'm too hard on myself ;-)  But I tell ya, that flower that's sitting on my craft desk, it's definitely very lop-sided, with a couple pieces that got torn in the folding/gluing process.
Ready for take 2?  I like it much better because escaped the whole lopsided challenge thing.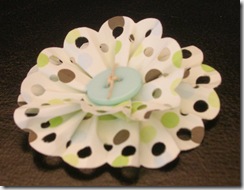 Did I mention that I heart flowers with buttons in the centre?  Or buttons in general?  Flowers in general too!  These are pretty squee-worthy!  Now I just have to find a million more great punches.  Looks like I may have to visit the local Stampin' Up! lady.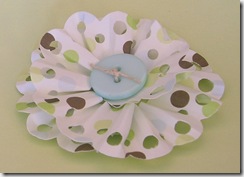 Oh and hey, this all stemmed from a really great tutorial over at Julie's Stamping Spot.  Check it out!  You'll be popping out eyelet punch flowers in no time!