That title sounds very much different from what it means.  No, we didn't do any house planning, or anything to do with babies.  For our date night last week, we did 2 things that Nathan likes very much!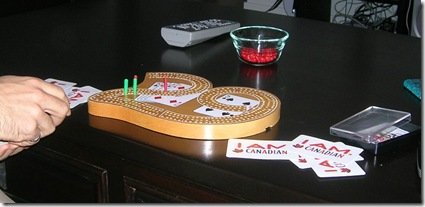 We watched an episode of House – one of the few shows that Nathan's really in to that I can also enjoy. This we pared with a fun game of crib.  Nathan loves games of all kinds, so I thought that'd be a good date for him.  It was a bit tough to concentrate on the show and the cards at the same time, but we mostly managed. And the important part?  I won! Lots of luck, but hey, that doesn't matter, does it?
Thanks to Tiffany at Simply Modern Mom for starting the whole Project 52 Date night idea.  Check out her blog to see what she and many others did last week.