I was recently reminded about my Etsy store that has been sort of neglected.  OK, to be honest, I've only ever put one card up there.  So today I decided to dust it off a bit.  It's hard to expect things to sell without marketing them, and that's not something I'm good at.  I just finished posting this card there.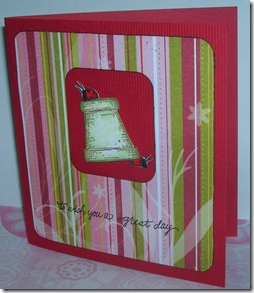 So if you haven't looked at it, check it out!  And tell others about it.  Tell them about my blog if you think they'd be interested too.. and don't be afraid to comment.  I like comments :-)
Also, today was a very happy morning in my books.  I visited my favourite stamp store and got some fun things like brads, distress ink, and stick-on pearls.  Next, I looked around Michaels a bit and managed to get out of there with some ribbon and a few stamps that were on sale.  Who doesn't like sales?  And finally I went to Staples where I found some foam tape (for half the price of Michaels!) and their glue tape roller that I love.  It's like whiteout tape but is double sided tape that rolls on easily and sticks really well.  Now can it be play time?