Tonight was a fun card-making night for the ladies of our condo building, organized by the lovely Jelena.  Check out her Etsy store – very cute cards!  She does them with whimsical drawings and other fun things.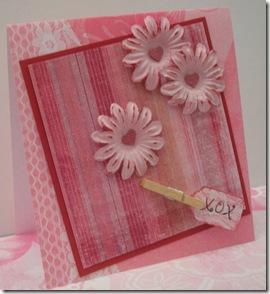 This card took many re-tries.   I think this was take-4 or something!  I love the little clothes pin, so I might start using those soon.  I've got a whole bag of them hiding in my craft room somewhere.  Clothes pins, buttons, ribbon/bows, flowers.. boy do I ever have a lot of fun things to keep me busy! So much inspiration, I don't know why I'm not crafting all day long!
I'd say the Valentines card making/ladies night was a success.  It was neat to meet others in the building, even though I was feeling a bit worse for wear (I messed up my neck somehow, and have a cold.. womp womp!)  Jelena's more patient than me with letting others use her craft supplies.. let's just say that her lovely shimmery pink in pad is now a beautiful shade of grey.