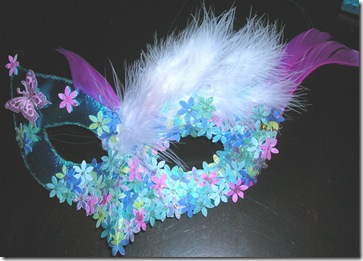 A friend of a friend was having a mask-making party, so 3 of us girls gathered up our crafting scraps and headed over to join the very large group.  There must have been 30 or more people coming and going.  This is my first ever attempt at making a mask.  I've learned that you need to think bigger and beyond the whole "mask" concept to get a real work of art.  Still, I'm pretty happy with mine.  It'll be great for a Halloween costume!
I found it neat that people tended to make masks that suited their personalities.  They chose colours or themes that just seemed appropriate to them.  It was amazing seeing the different works of art around the room (I'm sad that I didn't have my camera with me).  All in all, a fun and inspiring night!
My mask: The flowers are punched from scrapbook paper scraps and layered on.  The butterfly is from one of my stamps.  I embossed it in silver, added some glitter, and carefully cut it out.