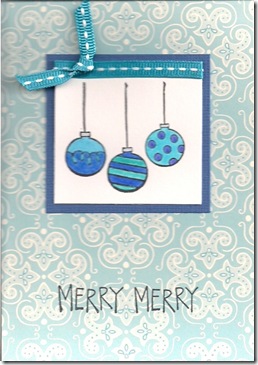 I got called in to work at the stamp store the other day, so I found a few minutes to put a card together.  This Brings me to what happens in Michaels Craft store.. Do you have the same problem as me?  You buy things? It just seems to happy. I'll admit it, it's a bit of a "problem," but there were a whole bunch of fun Christmas clear stamp sets, all for $1.50.  I only bought the cute ones, I swear!
So yes, this card is made from one of the discount bin sets of stamps.  They're not made very well, but they get the job done if you're patient and use good inks.  Apparently I'm into bows now.  This is surprising to me because in all the years that I've been stamping, I have used maybe 2 bows total, and in the last few months I've used a gabazillion.
I just stamped these and painted in with Twinkling H2Os.   The ribbon is by AMuse, and the top of each ball is coloured in with a silver gel pen.