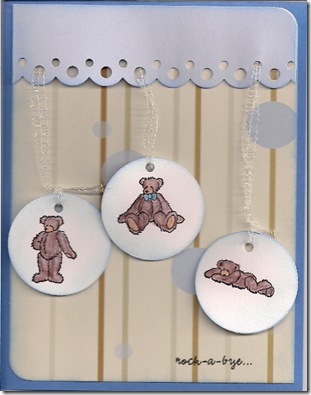 My cousin just had a healthy baby boy – Samuel.  Congratulations, Kerri and Justin!  At times like this, I wish the whole family lived all in the same city.  It'd make visits so much easier!  I don't see myself going to Edmonton anytime soon, but you never know.  Maybe I'll get sick of the mild temperatures and the rain here, and crave some freezing cold dry weather?  Anyways, isn't this the cutest little teddy bear?  I thought it'd be neat to have him hanging, like from a mobile.. babies like mobiles.  I'll have to make one when we have a baby.. err, hopefully I'll make it before the baby comes.  No no, not pregnant yet!
Materials
Cardstock and patterned paper cut to size
Teddy bear stamp (Judikins?) and rock-a-bye stamp
Punches: Circle punch, corner rounder, and Martha Stewart border
VersaFine Onyx
Sparkly ribbon
Foam dots
Baby Blue ink pad
Water color pencil crayons and water + paintbrush
1/8" hole punch
How-to
Cut papers to size.  Punch out 3 circles in white, use corner rounder for 2 diagonally opposite edges of patterned paper, and use Martha punch for the light blue piece (round one corner of it too)
Stamp teddy bears and sentiment in Onyx
Colour in teddy bears with water color pencil crayons, and blend with wet paintbrush
Punch holes in circles to make tags
Edge tags, patterned paper, and top light blue border in baby blue ink
Tie ribbon to tags, and attach to border piece of cardstock
stick everything together – attach tags to card with foam dots.