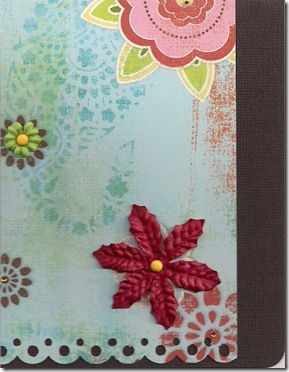 To my dear friend Laura, Happy bar passing to you! This card I made for my soon-to-be lawyer friend because she's oh-so special.  My husband took a look at it and wondered what it would look like with a slightly different layout.. Let's ponder this… what do YOU think?
Woah, card overkill! Well, the rounded corner edge would have to change, but I think the other layouts would work. He thought I should have the patterned paper part on the right hand side so that the card could be used horizontally instead (if used horizontally, it looks far better with the brown at the bottom). Oh husband, you're so clever.  I still prefer my original though!
Materials
Brown cardstock
Beautiful patterned paper
Martha Stewart edging paper punch (so cool!)
Paper flowers (red and green)
2 yellow brads
3 gold jewels
Corner rounding punch
How-to
Cut cardstock and paper to the right sizes. Estimate, mate.
Trim the bottom of the patterned paper using the Martha punch, then trim the piece to the right length
Attach flowers to paper using brads (I pierced the paper first to make it easier)
Stick on your jewels
Glue down patterned sheet to cardstock.
Use corner punch  on bottom right corner. Purdy.