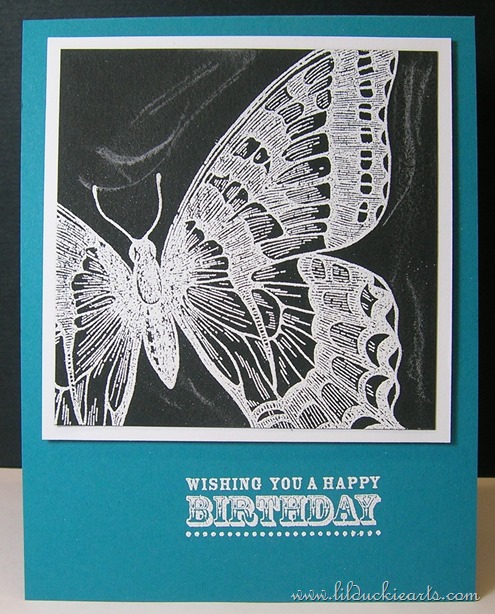 Hiya,
I'm making veggie stock from scratch.  It's really easy; it nearly makes itself!  I just kept bits of onion, veggies that weren't being used up, etc., and froze them until I'd have time to boil them in some water along with peppercorns, some cilantro and bay leaves.  That's it, that's all, that's everything.  A freezer all stocked up (ahem.. I hate puns.. pretend I didn't make that one). We're ready for some soup here!
Also, I got my first baby-free night since having L.  My sister-in-law had baby duties while Nathan and I went out to dinner and stayed at a hotel.  It was nice not to have any responsibilities!  I think, however, that we slept worse than we do at home due to a different schedule, different pillows, etc.  I really should take my pillow with me, even to hotels!
Check out this card I did at a recent chalkboard techniques class:  The beautiful swallowtail butterfly embossed in white on black paper, with some added chalk smudges.  I've been seeing this whole chalkboard style everywhere lately, and it's super easy!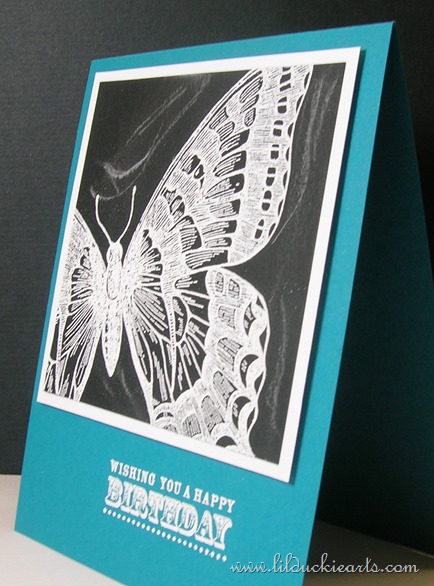 Materials:
Whisper White, Basic Black, and Island Indigo cardstocks.
Versamark Ink with Whisper White embossing powder.
Swallowtail and Happiest Birthday Wishes stamps.
Stampin' Dimensionals and white chalk.