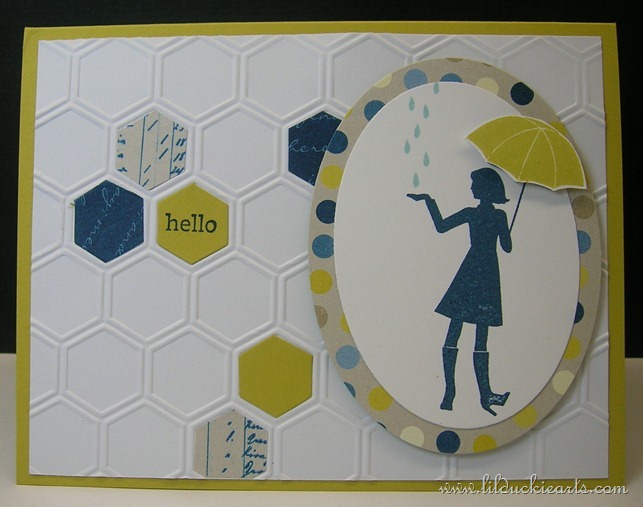 Yes, hello you! Hello rain! Hello cold that thought it should also visit!
I've been drinking mug after mug of lemon, ginger, and honey tea. We really need to stock up on all three, as I've completely depleted our stores. I'm not sure if it's actually helping, but my fingers are crossed. So far, little bean's avoided this one (knock on wood?).
We had yet another fun weekend filled with parties. Saturday was a nice little tea party that some friends put on for L's 1st birthday. There were delicious crust-less sandwiches, lots of tea, and a giant tower of assorted sweet treats (French macarons, almond tarts, etc). I was in heaven! L even got to eat a delicious carrot birthday muffin.
This card… I really enjoyed making it! I was inspired by the latest catalogue, but went my own way with it a bit. Don't you love that honeycomb embossing die?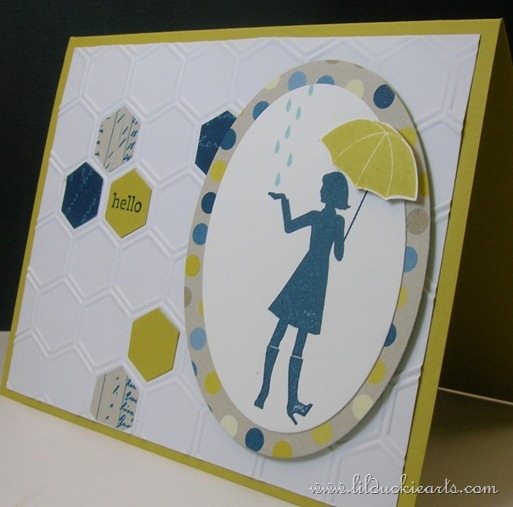 Materials:
Summer Starfruit and Whisper White cardstock. Print Poetry DSP Stack.
Summer Starfruit, Midnight Muse, and Baja Breeze Inks.
Million Dollar Moments hostess stamp set,
Ovals Framelits Dies, Honeycomb textured impressions folder, and the Big Shot.