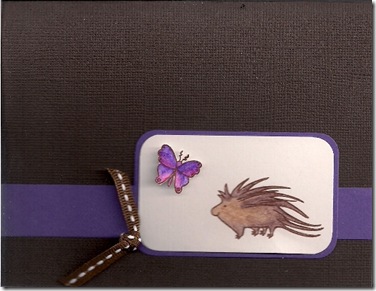 I have to admit that I didn't come up with the concept for this card on my own.  I had a little help from my friends at the local stamp store.  I hope they don't mind when I feed off their creative energy.. I did spend a good 6+ years working there!  Anyways, I didn't steal everything from the original.  I used purple instead of light blue, went for a different image, and opted out of some brads, cuz hey, I've got to make it my own somehow.  As for the cute critters, I've had that set for quite some time.  I think it was a birthday present.  But is that a porcupine, or a guinea pig?  Beats me!  Thoughts?
I think it's a pretty cute card for a lot of different occasions.  You can give it to a friend as a "just saying hi" or "thinking of you" type of thing, or birthdays, thank yous, you name it.
Materials
Brown, purple, and white cardstock
Brown ribbon by Amuse
Critters clear stamp set by Hero Arts
Pop dot
Water color pencil crayons
Paintbrush and water (I like to use the brushes with the chamber for water, so I don't have to have a dangerous spilly cup next to me)
Memories Artprint Brown ink
Diamond glaze
How-to
Cut out your cardstocks to the right sizes.. Approximate, it eases some stress of getting it "perfect" since there isn't a perfect.
Stamp the little porcupine pig guy in artprint brown
Stamp the butterfly on a scrap of white cardstock in artprint brown
Colour in both images with water colour pencil crayons (dry – don't wet anything yet).  Shade a bit, or blend colours.. don't worry, they'll blend a lot more when you add the water.
Carefully blend the colours together (light to dark) with a wet paintbrush.  Don't make the paper too wet or it will warp or start to melt away
Cut out butterfly and attach to piece with porcupine guy, using a pop dot
stick your other cardstock pieces down on the brown background card
Cut a length of ribbon to about 3 or 4 inches and tie a double knot
Trim the ribbon until you're happy with the length (trim on an angle), then attach to card using your favourite adhesive.  I like to use Diamond Glaze for extra sticking power.