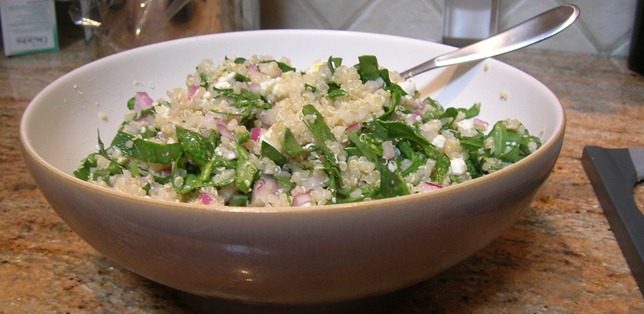 Sometimes I don't want to cook. We've all been there, right? You manage to get through breakfast.. Then comes the load of laundry, answering a plethora of emails (most of them were junk mail, so that was easy/annoying), stamping the day away, playing Patty Cake fifteen thousand times… That's not your life? I'm sure the laundry and emails creep in there somewhere at least.
It's so nice to have a giant bowl of this salad on hand for times when you suddenly realise you haven't eaten in at least 3 days. It's packed full of so much goodness, it just about makes over your whole body on its own. Spinach! Quinoa! Olive oil! Lemon! And holy cow is it ever addictingly delicious. I love it. I'd eat it every day if I could.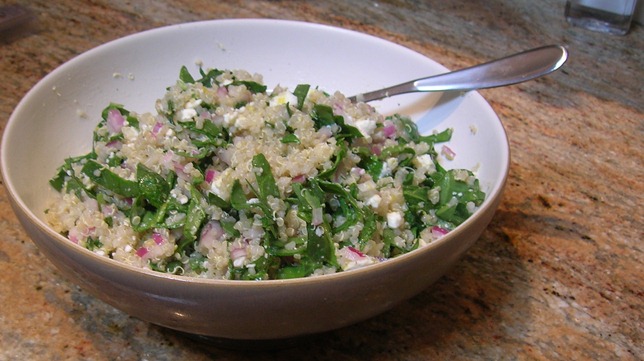 Lemony Quinoa Spinach Salad with Feta
Source: Adapted from Dinner with Julie

1 cup quinoa
3 cups packed spinach – washed
1/2 red onion
2/3 cup feta cheese
zest and juice of one lemon
3 Tablespoons rice vinegar
2 Tablespoons olive oil
salt and pepper to taste

Rinse quinoa in a fine mesh sieve for a few minutes. This gets rid of the bitter coating. Bring a pot of salted water to a boil and add rinsed quinoa. Boil over medium heat for 15 minutes. Remove from heat. Drain well, return to the pot and steam with the lid on for 5 minutes. Fluff with a fork and allow to cool.

Put quinoa into a large bowl. Thinly slice the spinach and add it to the bowl. Add the onion, lemon zest, and crumble in the feta.

Drizzle the lemon juice, rice vinegar, and oil into the bowl. Season to taste with salt and pepper, and toss well.

Salad will keep for about 4 days in the fridge.