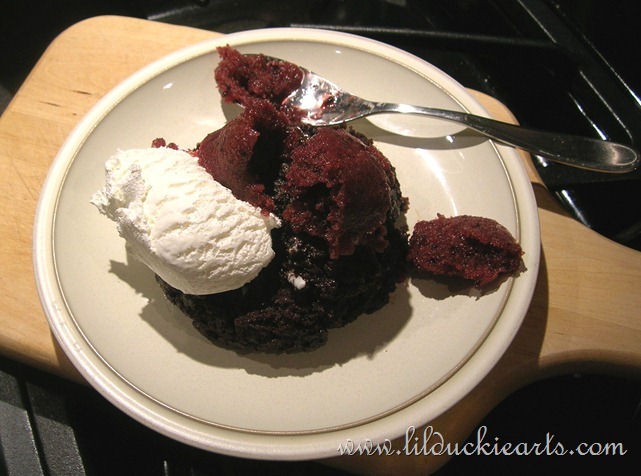 Brownies don't photograph very well, do they?  Seriously, it doesn't matter that this looks like a pile of ick.  It's just too good and too easy to make for me not to share the recipe.  The real dangerous part?  You microwave your very own portion.. and you can mix the dry ingredients ahead of time.  Yeah, not good at all!  At the end of the day, when I'm ready to crawl into bed, I often crave something sweet, and here it is.
The original is a mug brownie recipe from Julie Van Rosendaal, and oh my goodness did she ever do something right!  You can change it up by adding a bit of peanut butter – cut out some of the oil, or chocolate chips.. ooooh, or caramel chips! They're delicious in this.  Top with some black cherry sorbet and you're golden.
If you have 3 minutes to spare, you can enjoy this ooey gooey deliciousness.  I found the portion was a bit large, but sometimes that's totes not a problem, right?  Don't worry, you can make a half portion super easily!
How it works:
Mix up your dry ingredients really well.  You can make a big batch then measure out your portion if you like.  Add the oil and milk (or water, almond, soy milk, leftover coffee.. you've got a lot of options here!), and any add-ins.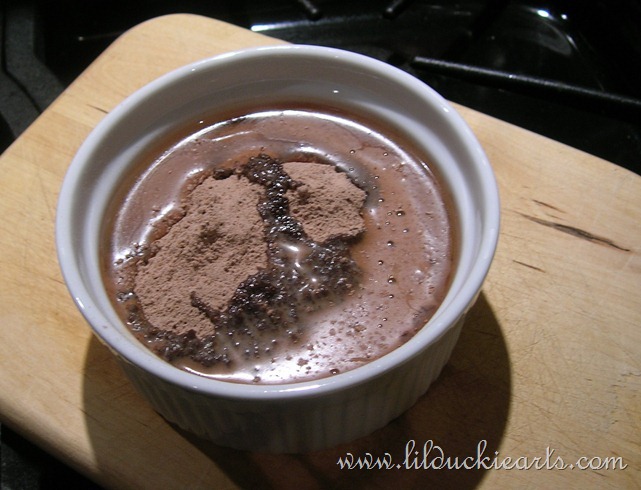 Stir it up so everything's moistened. Gross.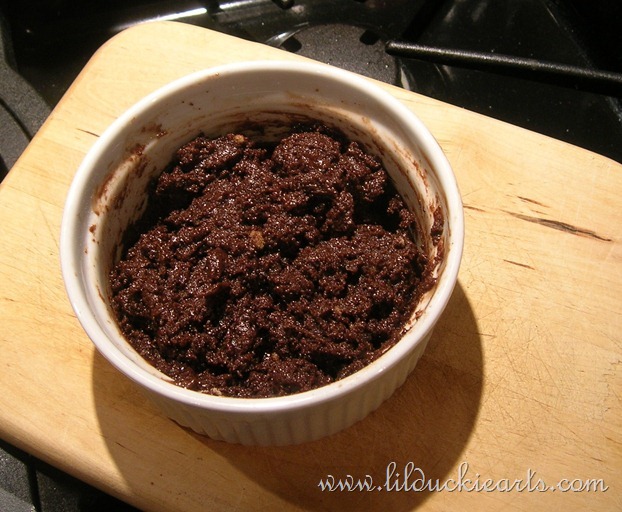 Microwave. 1 minute for the full portion, 45 seconds for a half.. but you should check on it since your microwave might be more or less powerful than mine.
Here I plopped it onto a plate. It wasn't too happy at me for that.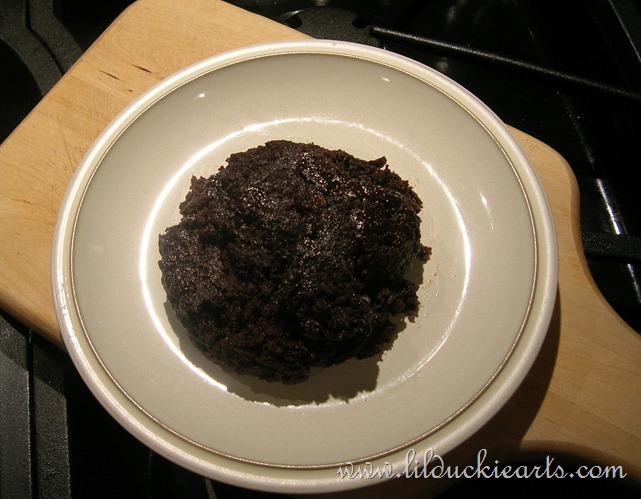 Dress it up!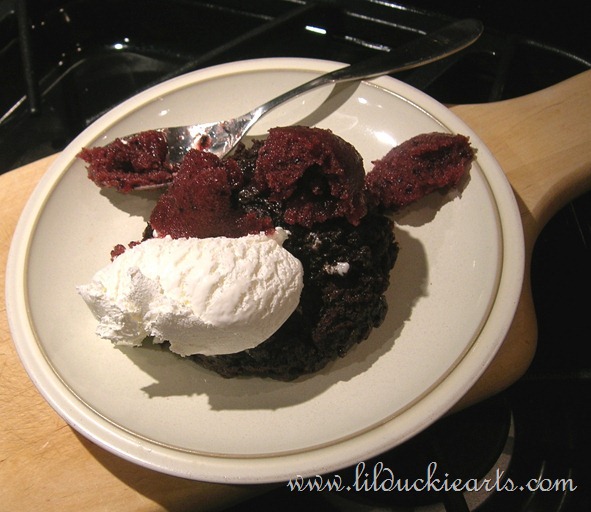 3-minute Mug Brownie
Adapted from The Family Kitchen

Single Portion:
1/4 cup flour
1/4 cup brown sugar, packed
2 Tablespoons cocoa
pinch of salt
2 Tablespoons Canola Oil, or 1.5 Tbsp. oil and 2tsp peanut butter
2 Tablespoons milk or alternative (water, coffee, soy milk, almond milk, etc)
2 tsp. add-ins such as chocolate chips or caramel chips (optional)

Mix dry ingredients really well.  You can mix a bunch of little packets in ziplock bags to use when you get a future craving – just shake them and squish them up until mixed well.  Add them to a microwave-safe bowl.
Stir in oil and milk and add-ins until combined, then microwave for about a minute.

Half Portion:
Mix up any multiple of the dry ingredients and store in a container.  When you're ready to use it, measure out 5 tablespoons of your new brownie mix into a microwave-safe bowl.  Stir in 1 Tbsp. oil, and 1 Tbsp. Milk, and your add-ins.  Microwave for about 45 seconds.

Enjoy!