Guys, guys, I made something from my "I've never made before and would like to try that" list! Bagels! These ones are even kinda healthy, as I used some whole wheat flour. This recipe was pretty easy, but the kneading got a bit tiresome. Hey, I'm wimpy like that. I think next time I'll use my stand mixer with the dough hook.
They tasted pretty darn good.. cinnamoney, little bits of cranberry, chewy… great with peanut butter and honey. I like that combo too much to have tried them with cream cheese, but Nathan confirms that the cream cheese is a hit on these guys too.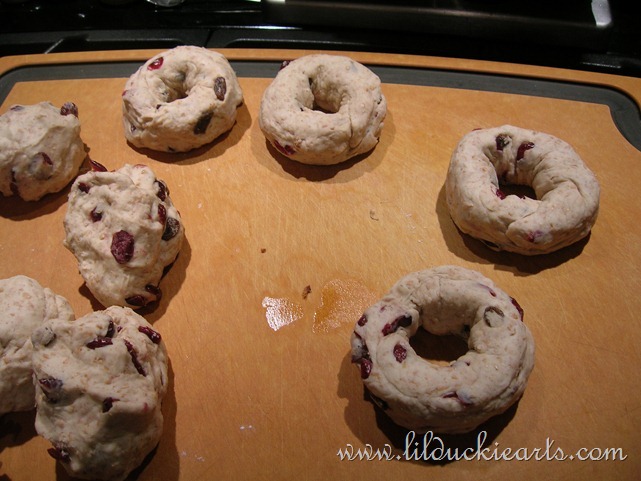 You make little snakes of dough and then make your bagel shape.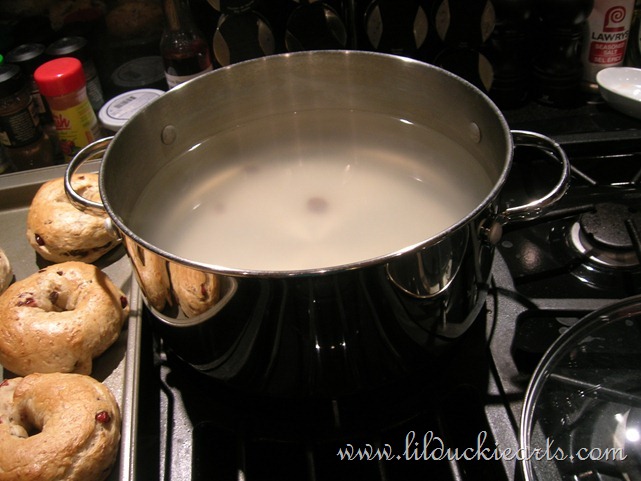 That's the pot where I boiled them. Boiling = bagel chewiness.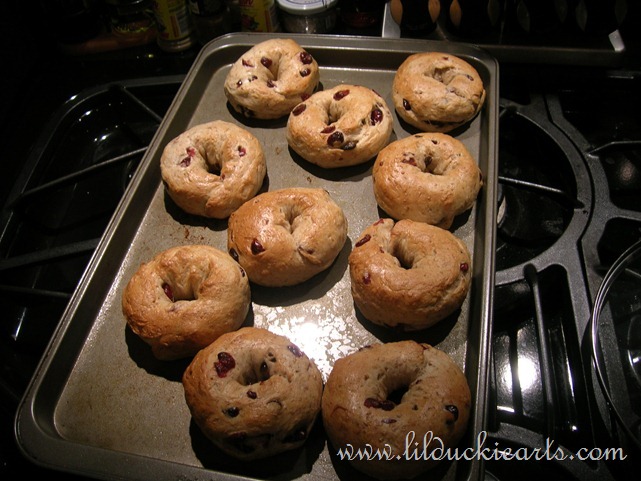 Fresh baked!
Cranberry Cinnamon Bagels

2 1/4 tsp dry active yeast
1 Tbsp sugar
1 1/2 cups warm water
1 Tbsp canola oil
4-5 cups flour – I used 1.5 cups whole wheat.
2 tsp salt
1 tsp cinnamon
1 cup dried cranberries

In the bowl of your mixer, stir the yeast and sugar into the warm water to dissolve. Let stand for 5 minutes to foam up.

Stir oil and 1 cup of flour into the yeast mixture, then add the salt and 2 1/2 cups of flour to make a soft dough. Now you can start kneading with your mixer's dough hook, or by hand. Keep adding flour to get a smooth and elastic ball – 10-15min. Cover and let it rest and rise for 15 minutes.

Divide into 10 pieces and roll each piece into a rope, then shape into your bagel, making sure to pinch the ends over each other. Let rise for 20 minutes.

Meanwhile, start boiling a large pot of salted water, and preheat your oven to 425F.

After the bagels have risen, turn the water to a simmer. Lower a few bagels into the water and simmer for 1 minute. Flip them over and continue to cook for 30 seconds, then remove with a slotted spoon to drain on a wire rack.

Spray a baking pan with nonstick spray and lay your boiled bagels down, not touching one another.

Bake for 20 minutes or until golden

Makes 10.

Source: Adapted from Julie at The Family Kitchen