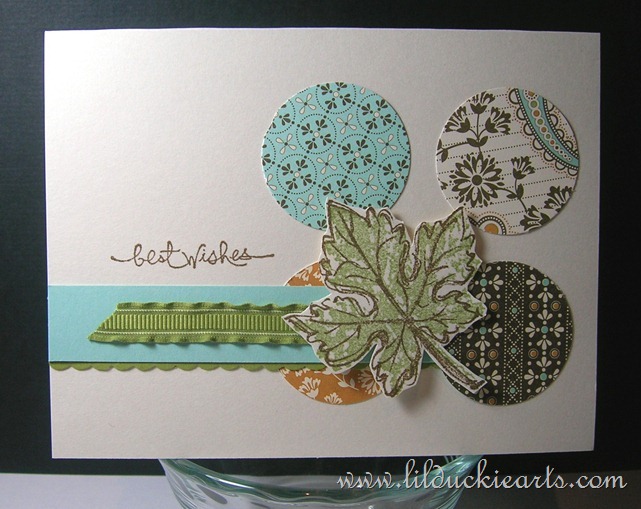 Have you figured out a Halloween costume yet? No? Me neither. Maybe I can just put on some makeup and call myself "glam." Hmmmmm… I do have this really awesome neon orange tiger face shirt, so I could wear that and some tights if all else fails. Minimal effort. I guess I'm just not a very Halloweeny person. Christmas is my thing, although I do have a soft spot for all that candy.
So no, this isn't a Halloween card. Nope nope. It's all about fall. Scarves, cozy sweaters, and boots. Curl up with a warm pumpkin spice latte. Sounds perfect.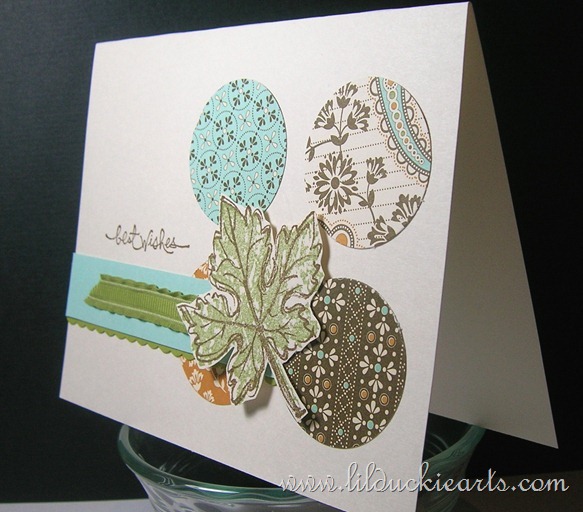 This card was quick and painless. Punch out some 1.5" circles from the Spice Cake DSP, stamp your layered leaf and roughly cut it out. Punch a border, add some ribbon and a sentiment, and you're done! 5-10 minutes.
PS: on the baby front… We had another ultrasound yesterday and she was oh-so cute! It was pretty neat to see little kicks and wiggles, and get to feel them at the same time. At one point the tech even showed us a 3D image! We're almost at the 3-month mark, which is getting exciting/scary.