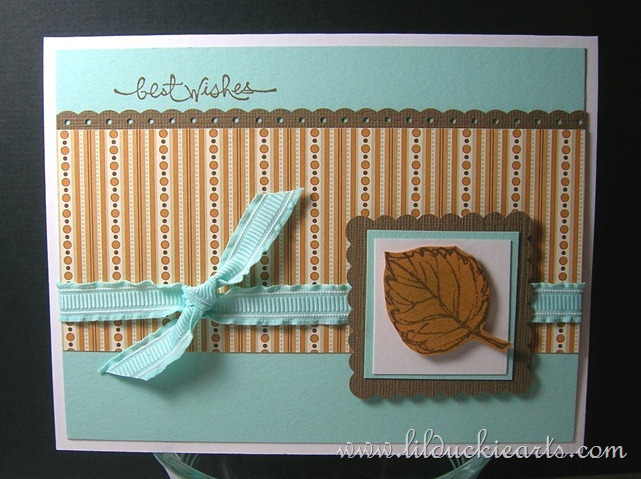 Hi, hi, hi…
Halloween candy.. It's everywhere! I want to gobble all those mini chocolate bars. 20 in one sitting, please. Would that make me a bad person? No, you all do that? Whew, ok! 25 in one sitting though, that's a whole different story.
Really what I should be eating is lots of whole grains, veggies, and protein. Boo. No fun in that at all… Bring on the chocolate bars, cupcakes, creamy delicious brie!
Make a card while eating said chocolate bars, cupcakes, and brie. This one's easy – no extra sponging or anything. Clean lines and crisp fall colours.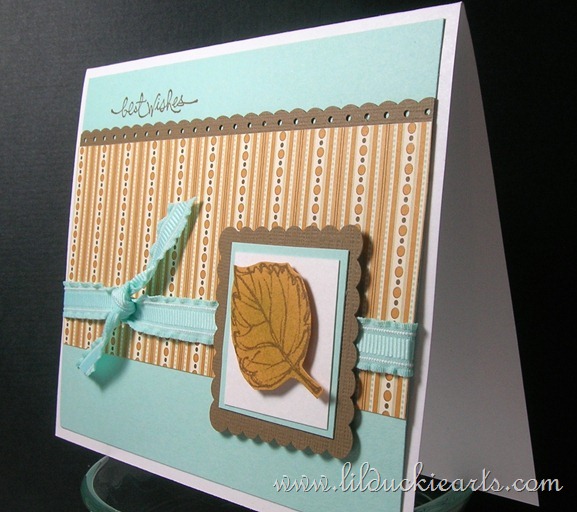 See that Pool Party cardstock and ribbon? Isn't it just the perfect colour for everything? It works here as a fall card, yet it's great for spring, summer, bright and cheerful cards. To boot, it works as a fantastic colour in a Christmas card. I should really be stocking up on it now.
The Spice Cake Designer Series Paper, and Falling Leaves stamp set really make this card happen. But between you and me, it's that Pool Party colour that is the game changer.